2000
Projects for the Russian Navy remain to be the main priority of the Institute research efforts. The Institute performs R&Ds in support of all projects of Russian surface warships and submarines under development, construction or commissioning.
The work for oil & gas industrial complex becomes increasingly important. It includes research, design & engineering studies in the field of offshore technologies to provide for the development of advanced offshore platforms, ice-resistant marine structures, offshore terminals and special-purpose marine processing & shipment systems.
In June 2000 the Krylov Institute concluded the agreement with the crew of the nuclear submarine Gepard (Pr. 971) on patronage & technical assistance.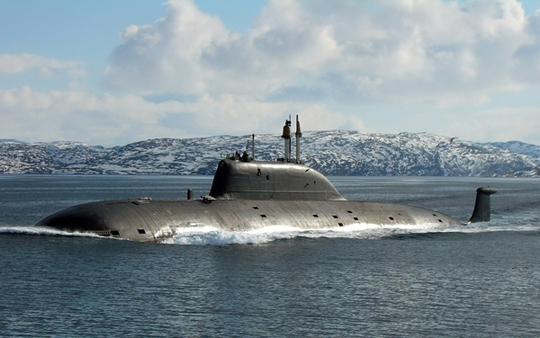 Nuclear attack submarine «Gepard», Pr. 971
2001
The most remarkable project of 2001 was research & engineering assistance to salvage of the damaged nuclear submarine Kursk. In the same year the Institute laboratories were granted the certificate of compliance and accreditation with Deutschen Akkreditierungs Rat (German Accreditation System of Testing Laboratories). In 2002 the Institute wins the St. Petersburg Prize of Quality in the nomination Industrial Organizations.
The Institute activities being increasingly driven by the innovation-oriented approach.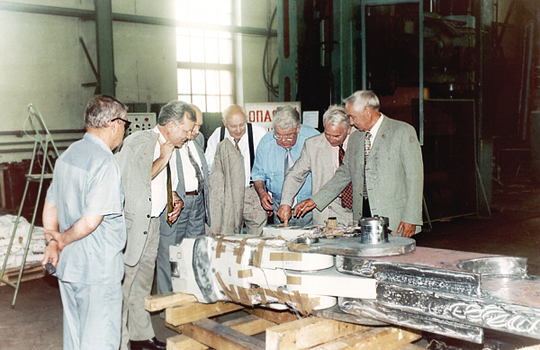 Academicians of naval architecture V.G. Peshekhonov, S.N. Kovalev, V.I.Kiryukhin, I.V. Gorynin, I.D. Spasskiy, V.M. Pashin examining the gripper assemblies to be used for lifting the wrecked nuclear submarine "Kursk"
2004
The Institute is visited by V.I Matvienko, Governor of St. Petersburg.
Production of some ship equipment is initiated to accelerate implementation of innovative developments into shipbuilding practices. Delivery of the following equipment is started:
Reinforced rubber coating tiles for noise absorption & suppression;
Radar absorption materials;
Corrosion protection systems;
High-tech electronic hardware, devices, etc.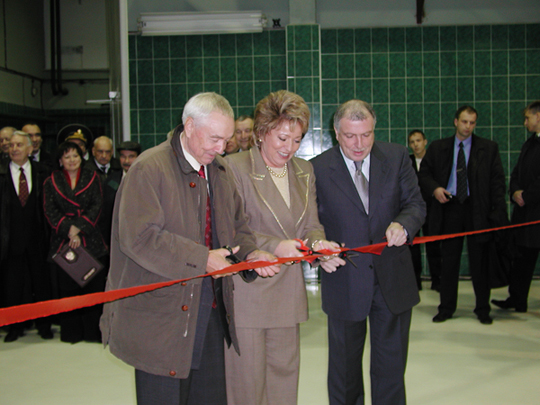 Inauguration of the acoustic tile production shop (V.M. Pashin, V.I. Matvienko, I.I. Klevanov)
The Krylov Institute is a collective member of the most reputable international organizations in the field of shipbuilding, it takes part in practically all major international exhibitions, conferences and symposia related to shipbuilding. The order book is made up of contracts & agreements related to both commercial & military technologies signed with the Russian customers (Ministry of Industry and Trade, Ministry of Defence, shipbuilding industries, Rosshelf, Sevmorneftegaz, Lukoil and other) as well as with foreign customers Exxon, Sakhalin Energy, Brown & Root, «Moss Maritime A.S., ABB Azipod, British Lloyds Register, Saipem, etc. As a result of the Institute activities on the world market at that time, over 450 contracts had been signed since 1991 with companies from Canada, China, France, Germany, India, Italy, Norway, Republic of Korea, UK, USA and other countries.

2006
The Institute is visited by S.B. Ivanov, First Vice Prime Minister and Defence Minister of the Russian Federation, together with B.S. Aleshin, Head of Federal Agency on Industry, and V. V. Masorin, Navy Commander-in-Chief.
Coordination of activities for drafting the Strategy of shipbuilding industry development up to 2020 and beyond. Elaboration of the Federal Target Program «Development of Civil Marine Technologies for 2009 — 2016» in association with 70 organizations of shipbuilding and related industries.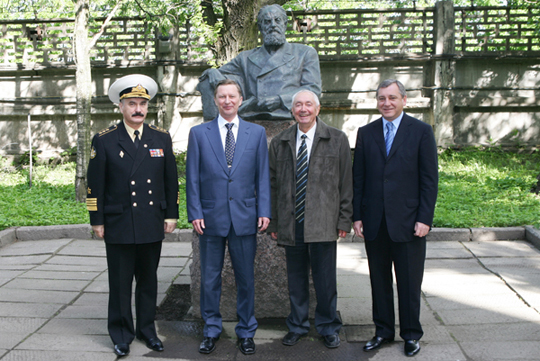 Navy Commander-in-Chief V.V. Masorin, Defence Minister S.B. Ivanov, Krylov Institute Director V.M. Pashin and Head of Federal Agency on Industry B.S Aleshin visiting the Institute's facilities. June 2006
2009
The Institute is visited by V. V. Putin, Chairman of the Russian Federation Government.
Construction of new test facilities starts: new ice basin, offshore basin, test bench for testing innovative full-scaleelectric propulsion systems, etc.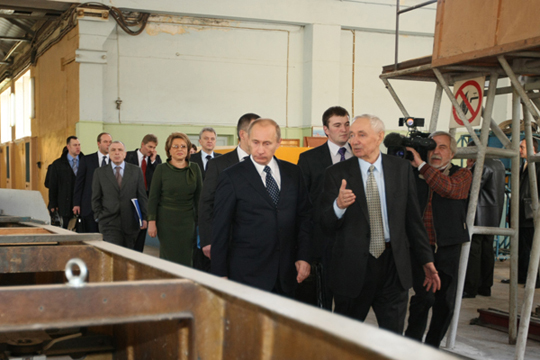 Chairman of the Russian Federation Government V.V. Putin in one of the Institute's laboratories
2010
Completion of the world's largest prospecting & producing platforms, Project 22590, which were designed by the Krylov Institute.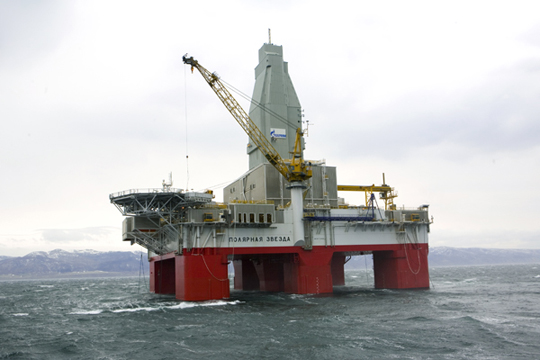 Semi-submersible drilling rig «Polyarnaya Zvezda», Pr. 22590
2011
Launching of the unique research ice-class ship «Akademik Treshnikov» built to the design of the Krylov Institute.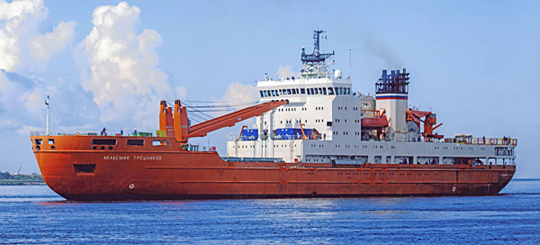 Research ship «Akademik Treshnikov» designed for expeditions in the Arctic and Antarctic, Pr. 22280