The Krylov testing facilities enable direct validation of strength and service life of test specimens and full-scale structures.
Large-size structural life and static test complex
Static, repeated static (fatigue) strength tests. Simulation of external forces ensuring stressed-strained state of tested structure similar to design (operation) conditions.
Reinforced floor dimensions: 48×24 m
Total load: 1.5×106 N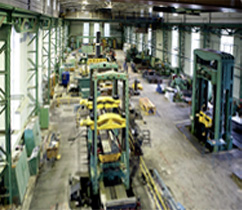 Complex of large testing machines
Investigation of various materials, joints and structures in order to determine strength and performance parameters.
The complex includes experimental facilities with large working area able to generate forces up to 30 000 kN and to be operated both in static and cyclic modes.
Maximum dimensions of tested structures: 15×3×5 m, maximum force 3 thousand tons.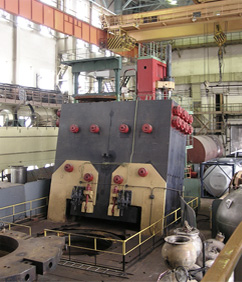 Complex of hydraulic pressure test tanks
The complex is intended to simulate diving of deep-sea submersibles and outboard equipment with the aim of investigating their strength parameters. Theses testing facilities enable to simulate diving down to the greatest depths of the World Ocean.
Maximum pressure: 150×106 Pa/p>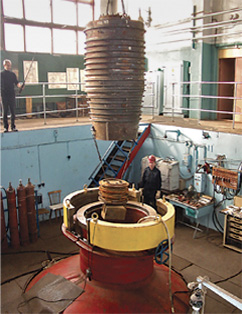 High pressure explosion tank
The facility is meant for testing structures and products to be operated under hydraulic pressures and subject to dynamic load effect.
Tank volume: 55 m³
Total operating pressure: hydrostatic + explosive 1.5•107 Pa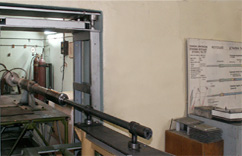 Shield resistance test facility
Investigation into shielding capabilities of various screens under the effect of high-velocity projectiles (fragmentation, etc.).
Electrodynamic vibration test rigs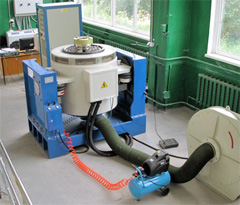 Fixed vibration test system ES-62LS3-550
Capacity — 910 kg
Max pushing force — 62000 N
Frequency range — 5 to 3000 Hz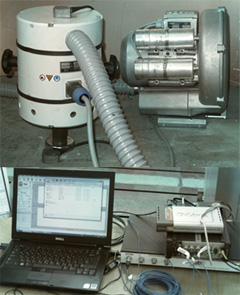 Portable vibration test system TIRA 51165/IN
Pushing mass — 24.8 kg
Max pushing force — 650 N
Frequency range — 5 to 3000 Hz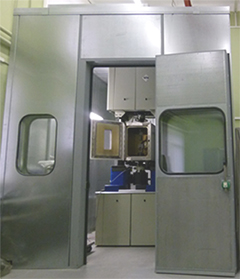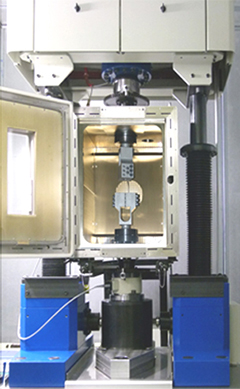 Testronic 500, RUMUL – a 500 kN high-frequency resonance test machine with dynamic drive for fatigue tests
Purpose: fatigue and static tests with selectable temperature range from -170 to +65°С
Peak loads (tension/compression)

500 kN

Maximum static load (tension/compression)

500 kN

Maximum peak-to-peak amplitude (full range)

500 kN (± 250 kN )

Frequency band

50-160 Hz

Climatic test room

temperature range from -170 to +65°С
rated power within 6 kW
time to cool to min. temperature within 90 m
temperature stability within ± 2°С

Soundproof room

overall dimensions within 3x3x3.67 m (LхWхD)
closed with roof, without floor
side wall area within 44 m2
roof surface within 9 m2
plated
viewport (safety glass) in sliding door
lightening fixture 2x58 W
exhaust air fan with a capacity of at least 1300 m3/h
sound insulation 40 dB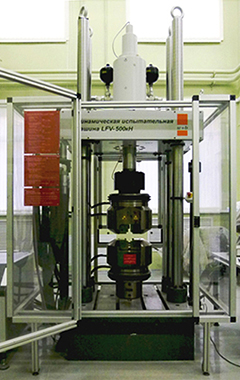 LFV-500, Walter+BajAG — a 500 kN servo-hydraulic dynamic test machine
Purpose: static and dynamic tension, compression & bending tests of materials, components and finished products
| | |
| --- | --- |
| Maximum force, static tests | 500 kN |
| Maximum force, dynamic tests | ± 500 kN |
| Frequency band | up to 25 Hz |
| Accuracy from 5 tо 500 kN | Class 0.5 |
| Accuracy from 2.5 tо 5 kN | Class 1 |