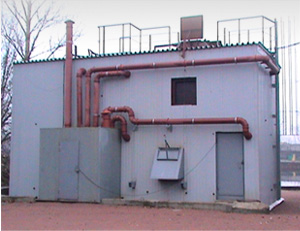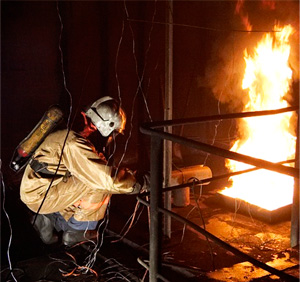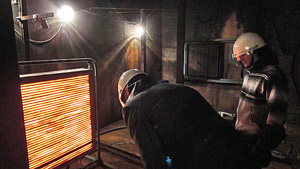 Test facility for simulation of ship fires
This test facility is a breadboard setup comprising the main engine room (125 m3), a two-level block of domestic and service spaces, and a hallway. The total space of the facility is 250 m3.
The test lab is instrumented with:
temperature measuring system (64 thermocouples with sensitivity threshold 1100°С);
gas analyzer system measuring the oxygen concentration (8 channels), carbon monoxide (8 channels) and carbon dioxide (1 channel);
air flow rate measuring system (8 channels);
thermal flow density instrument (up to 40 kW/m2);
thermal vision cameras HotFindDXS (1000°С) & FlirSC 660 (1500°С);
Pyrometer, up to 1500°С.
The rig is outfitted with a 1 m2 panel able to generate thermal flows with densities up to 50 40 kW/m2.
All measuring instrumentation provides continuous measurements with data uploaded and stored on the server.
The facility is equipped with a muffle furnace for studying heat effects on outfit equipment. This furnace can produce thermal loads as prescribed by operator with temperatures reaching up to 1300°С on test surfaces of 0.25 m2.
The test facility enables us to experimentally investigate the dynamics of shipboard fire propagation, conduct full-scale tests of ship's fire-fighting and alarm systems.