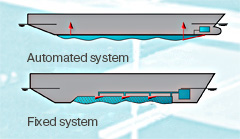 Development and implementation of an energy-saving system for generation of air cavities on ship's bottom
Estimations confirm that the energy saving devices that have been developed can be efficiently applied in all types of displacement cargo ships (ranging from small inland boats to super-large sea-going vessels). These devices will reduce the fuel consumption of the main power plant. Harmful CO2 emissions are also diminished by 10–15% (automated system version) or by 15–25% (fixed system version) with 2–3% power demand for generation and maintaining of air cavities. The system's efficiency will grow with the ship hull fouling.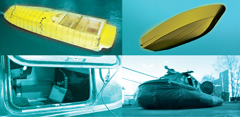 Development of technical solutions for substantial improvement of hydrodynamic configurations for various types of high-speed craft
Including:
New technologies for design of lifting systems for air-cushion vehicles of various types and sizes and air-cavity vessels;
Basic design specifications for a high-speed catamaran containership;
Technical proposals and packages of design documentation for high-speed passenger and car/passenger SWATH ferry for short-sea operations in the Black Sea;
Design documentation of an air-cavity boat.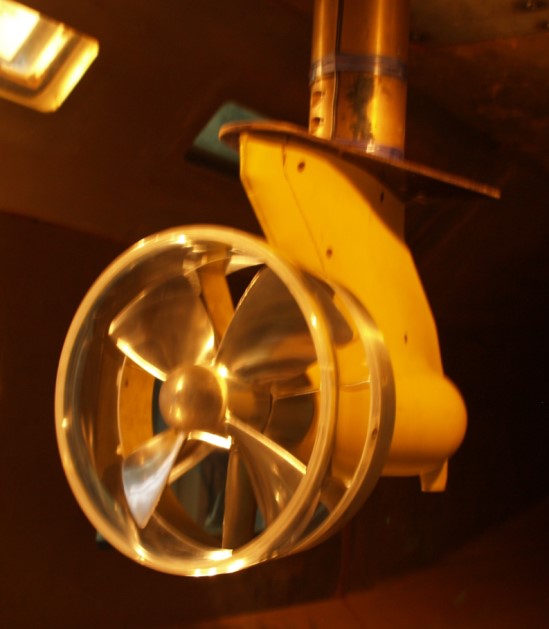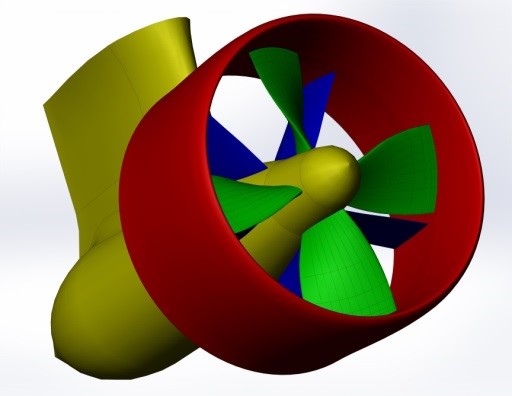 Further fruitful cooperation with foreign companies in hydrodynamic design of ships
Design of:
Sunshine cruise liner;
Arctic rescue vessel for Nordic Yards.
Side and middle screw propellers were designed for a triple-screw system of:
Passenger ship Oasis 3;
Cruiser ship Vista;
Triple-screw arctic icebreaker;
Cruise ship Norwegian Breakaway Plus.
Model tests were carried out to examine hydrodynamic performance of:
crew boat;
80-feet passenger ship;
Multi-purpose research fishery vessel;
Yacht of АВ 145 project;
Hydrofoil craft.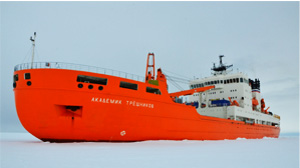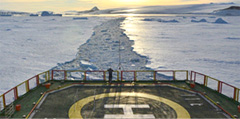 Technologies & equipment for monitoring in-service ship parameters during acceptance sea trials and special-purpose full-scale tests
The multi-role data acquisition & monitoring system Monitoring — super has been developed to support ship sea trials. With a helpful support of the Arctic and Antarctic Research Institute (AARI) the system was successfully proven on-board the research ship «Akademic Treshnikov» during its maiden voyage in 2012–2013 under the 58th Russian Antarctic Expedition project.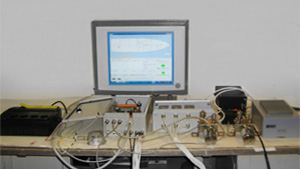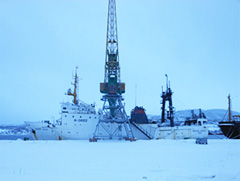 Computer-aided ship stability & strength monitoring system (CSSM)
CSSM is designed to ensure the safety of crews on board of fishing vessels in ice-infested and stormy seas. The system prototype has been manufactured and tested. It is believed to provide a general solution in stability monitoring for fishing ships featuring weight & cargo uncertainties (fish catch, icing effects).
A medium-sized fishing vessel has been outfitted with the CSSM prototype ready for trials.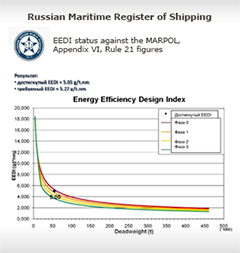 List of prospective ships to be built
A range of prospective ship types to be built at Russian shipyards has been identified with due consideration of IMO regulations on CO2 emissions.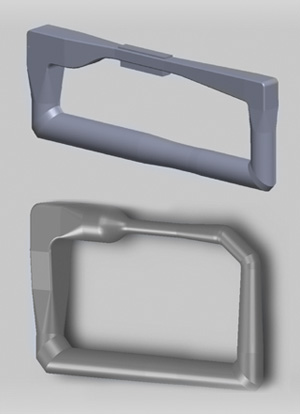 Modern propeller cavitation research technologies in cavitation tunnels
The cavitation research complex comprised of a general-purpose cavitation tunnel and a large-size cavitation tunnel is now under development. The performance and equipment of these facilities will make it possible to test models of various propulsive units and investigate their hydrodynamic characteristics including, among other effects, propulsor and hull interaction. The design specifications will bring the level of cavitation & acoustic research studies to the top state-of-the-art level and secure our leading positions in the field of propulsion system optimization for prospective ships.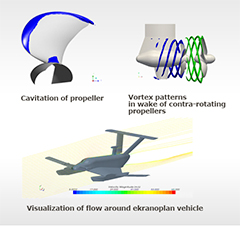 CFD techniques
CFD techniques for propulsors based on supercomputer.
The supercomputer-based technology for prediction of propeller cavitation performance has been developed. The proven methods are available to design propellers with improved cavitation characteristics.
Tests were performed to determine the aerodynamic performance of Orion-20 type WIG (ekranoplan) in flight over waves (no contact with surface), including the mode with forced blowing under wing, for a range of wind & wave loads.
Studies have been performed to work out recommendations for improving the hydrodynamic performance of currently designed ships both for Russian and foreign customers.
Propellers for 77 ship projects have been designed including 33 projects of foreign customers.