Вы используете устаревший браузер, который не поддерживает такие современные технологии как HTML5 и CSS3, используемые на этом сайте.
Просьба воспользоваться современным браузером
Chrome
,
Opera
,
Firefox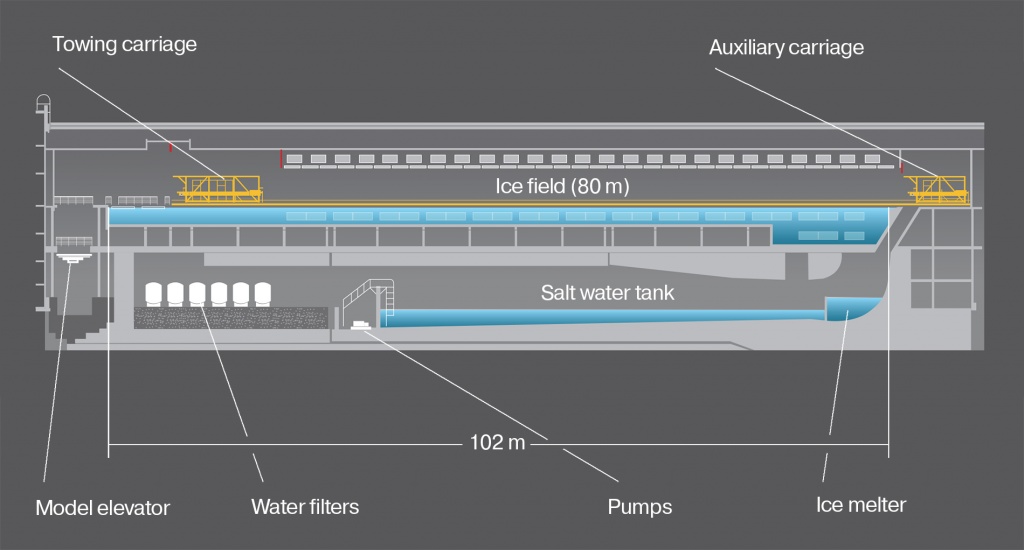 This test facility is intended for evaluation of global ice loads on floating and fixed marine structures, development of techniques for reducing ice loads on offshore platforms as well as elaboration of efficient icebreaker & ice-going ship design technologies.
Basin dimensions:
Width – 10 m;
Length – 102 m (80 m – ice field);
Water depth – 2.0/4.6 m.
The Ice Basin is equipped with the main carriage (running lengthwise) and transverse sub-carriage.
Ice thickness range — from 10 tо 100 mm.
Test model size:
Ships: length up to 10 m, displacement up to 5 000 kg;
Offshore platforms: up to 3×3 m, mass up to 2 000 kg.
Test scope:
Towing and self-propulsion model tests of icebreakers, ships and engineering structures;
Modeling of interaction between propulsion & steering systems with ice.