Вы используете устаревший браузер, который не поддерживает такие современные технологии как HTML5 и CSS3, используемые на этом сайте.
Просьба воспользоваться современным браузером
Chrome
,
Opera
,
Firefox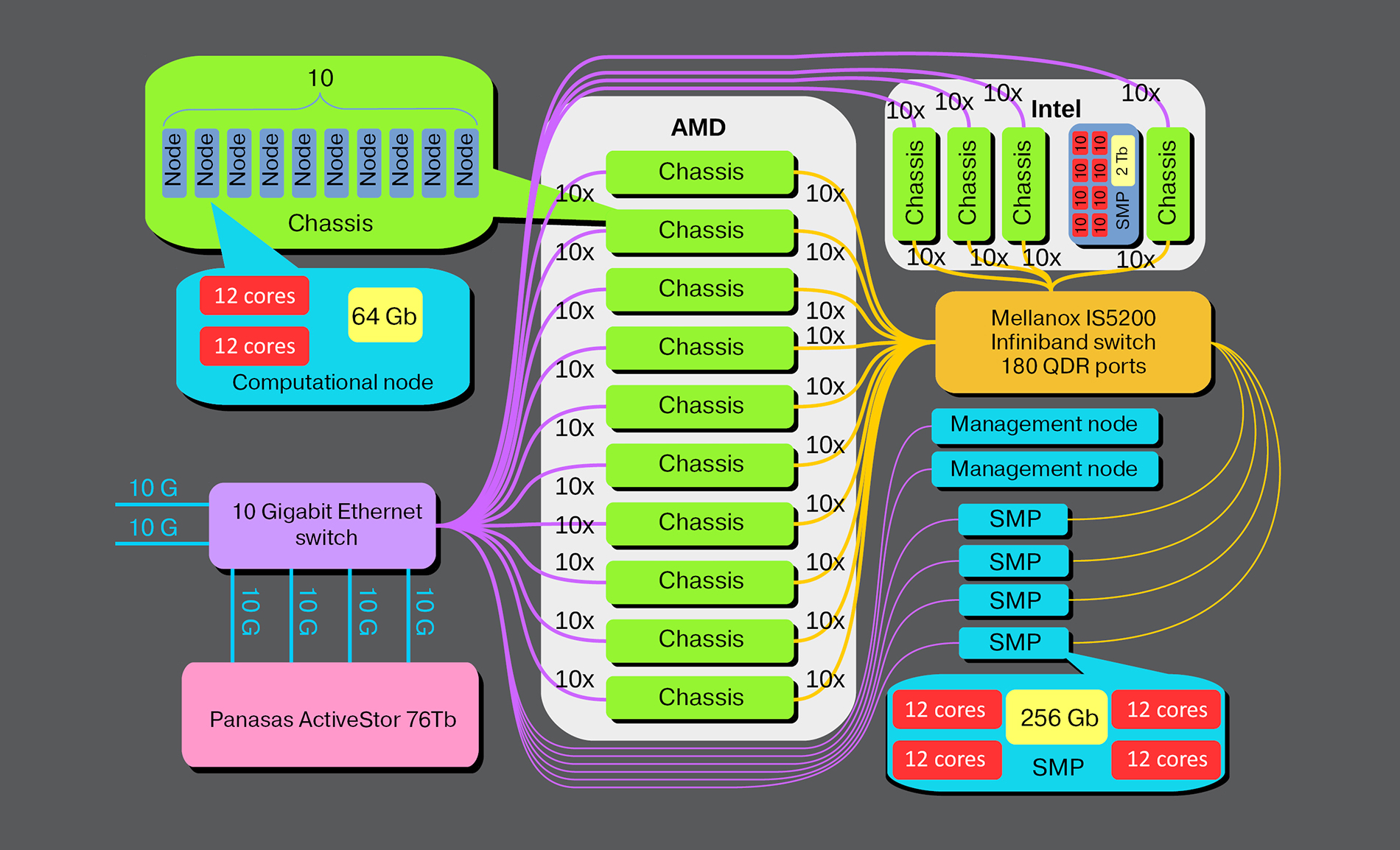 The Krylov State Research Centre is equipped with the most powerful supercomputer in Russian shipbuilding with a processing capacity of 56.13 TFlops.
Krylov's experience gained from numerical simulations for marine engineering applications demonstrates that these techniques make it possible to
reduce the test scope required for hull shape optimization and thus to save the cost and time of design efforts,
take well-informed decisions regarding the choice of design solutions,
improve predictions of full-scale performance,
raise the efficiency and, therefore, competitiveness of the prospective ship or marine structure under design.
Supercomputer case studies:
Preliminary optimization of hull lines, i.e. calculations to examine a range of hull shape options for obtaining the best or prescribed hydrodynamic characteristics, followed as a rule by manufacturing of ship model and model tests.
Calculations of parameters which are impossible to obtain in physical experiment (or when a physical experiment is not practicable).
Estimation of scale effects, i.e. comparative calculations for correlation of model and full scale conditions.
Computer simulation fully substituting the physical experiment, a rare case at present, when the accuracy of estimated characteristics is not required to be too high (within 10 to 20 %) to meet the design purposes or when the physical experiment provides the same accuracy.
Key numerical methods:
Modeling of multi-phase and multi-component flows, including thermodynamic effects;
Detached eddy simulation (DES) method for resolving of large scale turbulence;
Adaptive mesh refinement for saving the computational resources and maintaining the high accuracy at the same time;
Simultaneous fluid-structure interaction (FSI);
Flow visualization, including 3D video.
Krylov's Supercomputer Specifications
Total peak efficiency:

56,12 TFLOPS

Total peak efficiency without GPU

44,42 TFLOPS

Total volume of RAM:

9280 Gb

SMP:

4 nodes 256 Gb each
& 1 node 2048 Gb

Communication network:

QDR Infiniband

100 nodes – AMD Opteron 6174 200 items (2400 cores)

RAM:

6400 Gb

45 nodes – Intel Xeon E5-2697v2 90 items (1080 cores)

RAM:

2880 Gb DDR3
supports ECC 1600 MHz

Accelerators:

NVIDIA Kepler K20, 10 items

Operational system:

Debian
SOFTWARE:
Developed/Owned by

Description

Foreign software

CD-Adapco

Star-CCM+

Dassault Systemes

SIMULIA/Abaqus

Ansys

Fluent, CFX

Numeca

NUMECA FINE/Marine

Siemens PLM Software

NX

Open-source software (GNU General Public License)

OpenCFD Ltd (ESI Group)

OpenFOAM

In-House Software of Krylov Centre
Glimpse of Future
Background work is under way with a plan to set up an industrial supercomputer centre with a computing cluster of 250 TFlops to address a wider scope of issues at the Krylov Centre.