Publications of the Krylov Centre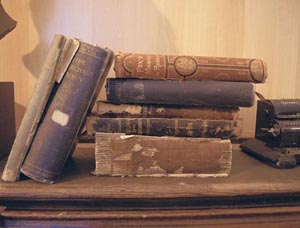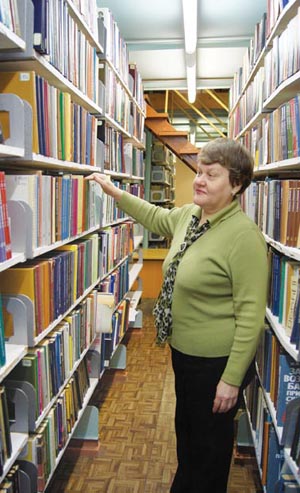 The library is open daily from 9 to 17
Cleaning day — last day of each month.

Readers from outside organizations are requested to make a phone call and book a pass document beforehand.
For further details please call:
+7 812 415-45-41
Head of S&T Library
Mrs Elena I. Guseva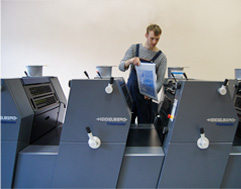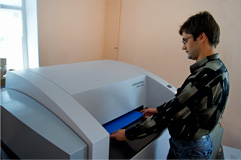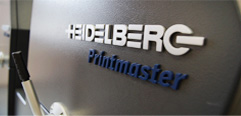 The KSRC S&T Library possesses the top collection of Russian and foreign publications related to shipbuilding and associated disciplines.
The pearls of this stock are rare editions dated back to XVIII — early XX centuries, e.g., «Comprehensive Treatise on ship construction and navigation written by Leonardo Euler for students in seafaring» (SPb., 1778), «Marine notes or Collection of miscellaneous papers and translations related to seafaring» (SPb., 1800), «Marine Collection» publications starting from the first edition of 1848, The transactions of Krylov State Research Centre starting from 1941, books presented to the library and signed by authors famous for their contributions to ship sciences, and many other valuable publications.
After winding up of TSNII RUMB in 1994, which was then in charge of the Central S&T Library of the Shipbuilding Ministry, KSRC took over its stocks and made these again available for the readers across the shipbuilding industry.
The S&T Library of the Krylov State Research Centre is unique not only within the industry but in the country at large. It used to subscribe to more than 50 foreign periodicals on fundamental and application sciences related to shipbuilding: ship theory, hydrodynamics and fluid mechanics, acoustics, deformable solid mechanics, etc., including:
Journal of Fluid Mechanics;
International Journal of Impact Engineering;
International Shipbuilding Progress;
Journal of Ship Research;
Journal of the Acoustical Society of America.
This list is far from being complete. At present the possesses over 300 000 copies of Russian literature and more than 117 000 copies of foreign books and journals. Since 2013, after a 10-year gap, we have resumed subscription to a number of foreign periodicals.
The S&T Library is the first in the shipbuilding industry which has set up a machine-readable catalogue meeting all modern requirements, and this catalogue is not limited to books or periodicals, it also handles an electronic file cabinet of articles from periodicals subscribed by the Library (over 18 000 entries) as well as electronic files of publications authored by researchers of the Krylov State Research Centre. A multi-aspect presentation of the library stock in the electronic catalogue (EC) enables readers to search relevant publications by any bibliography features of combination thereof, by keywords or UDK index. Soon it will be possible to get access to the electronic catalogue from any work station, and not only to catalogue but also to soft copies of documents. For this purpose we have set up a center for digitizing the publications, the software for this applications are already under development by Krylov's staff.
The S&T Library provides a range of reference and information services (including EC-based services): search of current and retrospective information, compilation of subject-specific information & indexes, obtaining of literature not available with the Library using an inter-library exchange system, ordering of electronic copies, purchasing of books requested by Krylov's divisions, indexing of research and technical reports and papers based on UDK tables, subscription to periodicals.
We are arranging monthly exhibitions of newly acquired literature. Internet connections have enhanced the spectrum of the Library's information services now including free access to web resources. It is planned to extend this scope in future. A comfortable electronic reading room will be provided to the readers to view and copy the relevant documents. Another spacious 40-seat room with multi-media interfaces will be arranged for lectures, seminars and presentations of publications including publications of the Krylov State Research Centre.
In the periodicals and monographs of the Krylov State Research Centre we regularly highlight the scientific achievements of the Russian and international shipbuilding.
The printing is done by the Information & Publishing Centre equipped with modern printing equipment.
Head of Information & Publishing Centre: Mrs Svetlana N. Korchagina
Phone: +7 812 415-49-80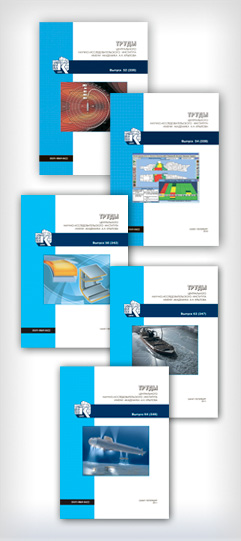 PROCEEDINGS
The first edition of the Proceedings was issued in May 1941. During the Second World War the Proceedings were not published. Since 1946 till the 1970s 270 editions of the Proceedings had issued been. Until the early 1990s the Proceedings were published by TSNII Rumb (the central economic & information institute in the field of shipbuilding) in the collection «Voprosy sudostroeniya»(Shipbuilding Subjects) distributed across the organizations of Shipbuilding Ministry and some other Departments.
Today the volumes of Proceedings are issued by subjects of research performed by the Krylov Centre research divisions (ship theory, structural strength, ship power plants, ship signatures and other fields in marine engineering), 6 editions annual with a run of 100 copies. Additionally, we publish a number of restricted-access editions. All papers submitted for publication are peer-reviewed.
The Proceedings of the Krylov State Research Centre have been included in the list of journals and editions of the State Commission for Academic Degrees and Titles (VAK) for publication of the main scientific results of Doctoral & PhD dissertations.
The Krylov Centre Proceedings are rated among the top science & engineering publications in the federal joint post catalogue «Russian Press» (index 29508) printed for subscription to newspapers and journals in Russia and some CIS countries.
The publication has an international standard serial number ISSN 0869–8422.
Full-text papers are available via the Scientific Electronic Library www.elibrary.ru
Editorial board
of the Krylov Centre
Instructions for papers
Peer review procedure for papers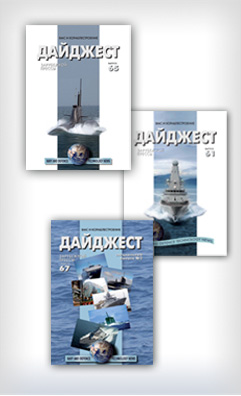 DIGEST
The database of the Krylov State Research Centre is considered to be an important factor of the successful operation. The Information Centre established at KSRC in 1992 has been engaged in the analysis of foreign naval shipbuilding and issues a special digest of foreign press «Navy and Shipbuilding».
This digest is based on the review of foreign periodicals (over100 journals and reference books) as well as special scientific & engineering publications, conference & exhibition proceedings, commercial booklets and promotional data from web sites. It contains unique data on actually all issues of shipbuilding.
The digest is available both in hard and soft copies.
The mail list includes the Russian President Administration, Central Office of the Government of the Russian Federation, State Duma and Council of the Russian Federation, senior officials of MoD, Ministry of Industry & Trade, and ROSCOSMOS, to military units, Northern Fleet and Pacific Fleet of the Russian Navy, including nuclear submarines and surface warships, as well as enterprises of shipbuilding industry.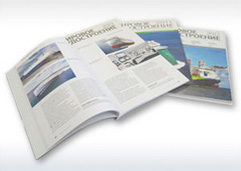 WORLD'S SHIPBUILDING
The Krylov State Research Centre is publishing the analytical/statistical journal «World's Shipbuilding» containing analysis of economic situation on shipbuilding & shipping markets with contributions from leading experts on shipbuilding, marine transport and fisheries.
This information assists in the decision-making process for choosing the best solutions, ship types and other marine technologies for further development of the Russian shipbuilding and shipping industries.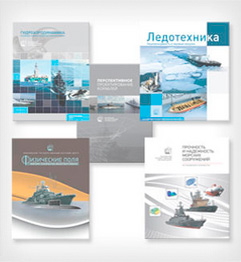 ADVIRTIZING PUBLICATIONS
We are regularly printing booklets on the core competences of the Krylov State Research Centre to familiarize specialists of the shipbuilding industry with our activities, new R&Ds, test facilities, etc.
Most of these publications are also available in foreign languages.