It is a leading institute for standardization and unification efforts, certification of products and quality management systems, classification and coding, cataloguing of products, metrological support, specialization and coordination of production in the field of shipbuilding.
TSNII Lot was established as an independent company in 1939. Since 1999 it has been incorporated in the Krylov State Research Centre. At present the Standardization & Certification Institute «Lot» is a multi-role research center:
Standardization and unification
Elaboration of regulatory documents;
Shipbuilding standards, industrial catalogues of ship equipment, unification booklets
Restricted access for viewing the available stock of international and national standards;
Subject-specific selection of regulatory document required for development and life-cycle management of ships and vessels by types of ships and technologies;
Selection of regulatory documents in electronic copies relevant for the competence of companies;
indexes of regulatory documents in the field of shipbuilding and unification documents in hard and soft copies;
Index of regulatory documents related to civil shipbuilding
Electronic copies of documents related to shipbuilding in the information storage and retrieval system NormaCS-LOT
Information publication — «Technical regulations in shipbuilding. Guidelines.»
(collection, 12 issues annually) in hard and soft copies.
Сertification
Methodological support (elaboration of guidelines & procedures for certification of shipbuilding products and QM systems);
Practical certification of shipbuilding products and QM systems in GOST R and Oboroncertifica in relevant fields of accreditation on applications from companies.
Classification and coding
Dissemination of technical & economic information classifiers and implementation procedures across the shipbuilding industry;
Coding of shipbuilding products (ship equipment & materials) on application of companies.
Metrological support
Regulatory documents on metrology;
Metrological assessment of design documentation and whole ships;
Data bases on metrological services, test equipment and instrumentation.
Cataloguing
Dissemination of regulatory documentation on federal cataloguing system;
Elaboration of standard formats for listing supply items and catalogue descriptions of ship outfit equipment;
Development of electronic catalogues for ship outfit equipment and SPT&A.
Marine engineering, specialization of production facilities
Supply of workshop design documentation on standard items of ship gears, hull fittings, furniture & outfit;
Information support as per specialization of shipbuilding industries and production of ship machinery and outfit;
Inventory for ships.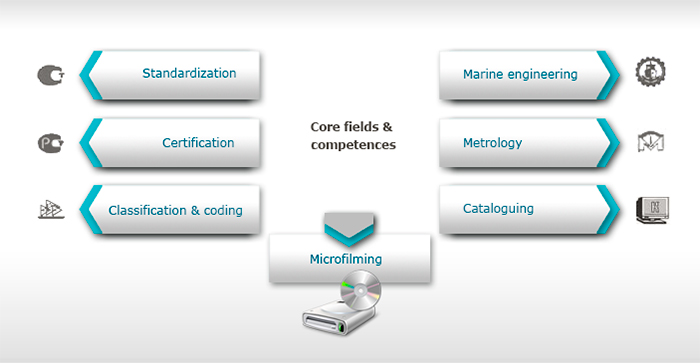 If you have any questions regarding the activity of Lot Institute or need any additional information, please write us a letter