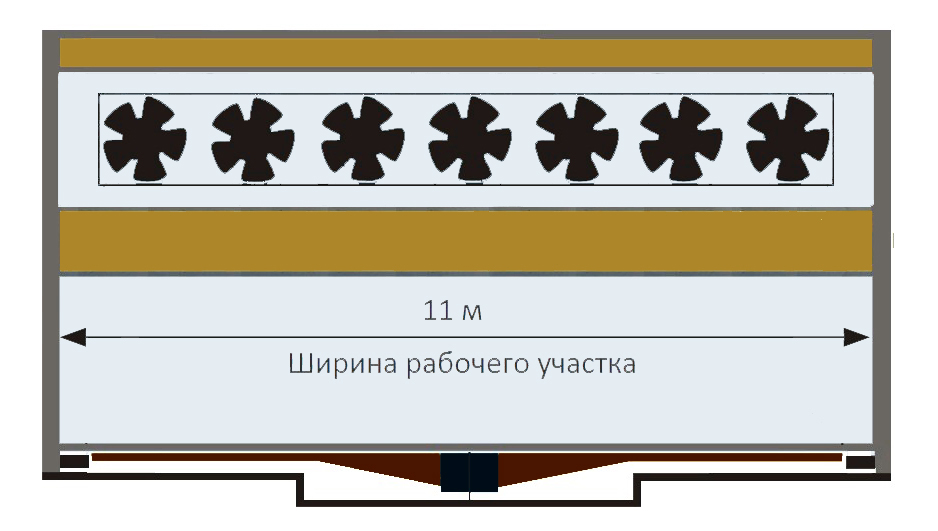 The Landscape Wind Tunnel is a special-purpose test facility for evaluation of wind loads on high-rise buildings, sport arenas, long-span bridges, river and sea port structures, drilling rigs, and unique constructions.
LWT facility is notable for its spacious test section and state-of-the-art outfit. The test section length is sufficient to enable simulation of the atmospheric boundary layer typical for the wind patterns on the building site under study, which significantly improves the accuracy of wind load determination.
The test section breadth of 11 m is wide enough to accommodate large-scale models with necessary details. It is particularly important in obtaining correct data for tall buildings and bridges when it is required to model surrounding landscape features and adjacent buildings.
The size of its test section and the modern toolkit make the Krylov's Landscape Wind Tunnel one-of-a-kind in Russia and world's top test facility in the field of aerodynamic studies for civil engineering and architecture design
Main Features:
Modeling of ground boundary layer
Test section shape- rectangular 11×2.3 m
Turntable of D = 10 m, turn angle accuracy — 0.1 deg.
Traversing gear, travel accuracy — 0.5mm
Air flow temperature & humidity control (climate control)
Types of aerodynamic tests for tall buildings:
Evaluation of wind loads
Measurement of mean & peak wind loads
Measurement of aerodynamic factors for building
Appraisal of comfort level in pedestrian areas
Investigation of air flow patterns over helipads
Modeling of snow accumulation on roofs
Determination of snow loads
Investigation of aeroelastic phenomena like vortex resonance, flutter, galloping, divergence, etc.
Types of aerodynamic tests for bridges:
Measurement of aerodynamic factors
Determination of critical wind speeds giving rise to dangerous oscillations
Determination of oscillation amplitudes for bridge superstructures, pillars, cable stays
Estimation of wind loads
Evaluation of snow loads on bridge span
Icing evaluation for cable stays, pillars, guard rails
Optimization of bridge aerodynamics
Development of passive and active vibration dampers
Contact person:
Deputy Head of Hydro-Aerodynamic Division
Ph. D, MBA, IABSE member
Sergei Yu. Soloviev
e-mail: s_soloviev@ksrc.ru
Tel: 8 (906) 251-23-10

Aerodynamic tests of buildings and structures (download leaflet)