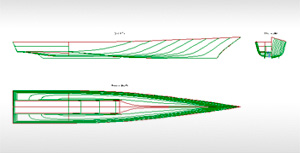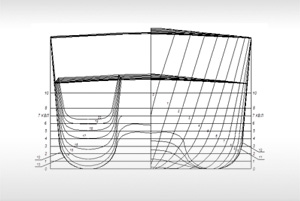 Design studies on advanced warships
At present the Division has taken an initiative of research and design studies in an effort to develop the engineering concept of advanced corvette and destroyer. The new hull architecture developed by the initiative of the Division provides a basis for further feasibility analysis in terms of specific ship projects.
An application for the invention «Displacement semi-catamaran hull» was filed, reg. No. 2012122347 dated 31.05.2012
Reference list of expert design reviews of ships, vessels and marine vehicle prototypes:
technical & economic analysis of design options for deep-water diving system of rescue ship (2013);
participation in expert commission on survivability evaluations (damage control) for repair dock (2012);
conclusions regarding an updated engineering design of frigate (2012);
participation in expert commission on survivability evaluations (damage control) on engineering design of warship (2012);
participation in expert commission on survivability evaluations (damage control) for floating dock (2012);
expert review of preliminary design for frigate (2010);
scientific & engineering support to elaboration (updating) of documentation and expert review of engineering design for an export frigate (2007);
elaboration of the company's standard STP IMJAN-027-2013 «Expert review of ship and vessel designs» (2013).
Development of documentation for formulation of the Russian Federation State Program «Development of shipbuilding» (2012).
In the development of documents for shaping up the Russian Federation State Program «Development of shipbuilding» the Division is responsible for the foresight analysis of naval shipbuilding.
State-of-the-art analysis of the shipbuilding industry including internal and external factors critical for the Russian shipbuilding, the main challenges have been identified with a proposed roadmap to solve these issues.
In support of this program the methodology was elaborated to validate the plans for development of advanced R&D in the field of shipbuilding, integrated analysis approach to evaluation of the future improvement directions for naval ships. Based on foresight methods the goals and key directions in the naval shipbuilding were formulated for the R&D sub-program to ensure forward-looking research & engineering development in the field of naval shipbuilding up to 2040. In this connection the relevant performance indicator system was generated for monitoring the work progress under R&D subprogram.
Analysis of main trends in foreign navies up to 2020 (2008)
At the request of the Russian Federation MoD we performed a state-of-the-art and trend analysis of foreign navies' surface combat ships and boats. Based on this analysis we made a forecast of the main trends in development of aircraft carriers, multi-role combatants, assault ships, mine-hunters, missile and patrol boats as well as supplier vessels up to 2020.
The project focused on the navies of the USA and other NATO countries, Japan, Australia, Sweden and China. The development of other world's major fleets was also scrutinized.
Updating of regulatory technical documentation
Investigations to examine the ways for raising the technical & economic efficiency of ships, optimization of processes in development, delivery, operation, maintenance and decommissioning of naval technologies throughout the life cycle to meet the state-of-the-art requirements (2005–2009)
Analysis of the Russian & foreign experience to identify the requirements and generate the regulations, standards, norms and technical documentation covering all phases of naval technologies' life cycle. Formulation of the program for relevant activities in this field up to 2011. Some specific regulatory documents and guidelines were drawn up under research project «Kristallizator».
One of the most important regulatory document developed under this project is the «Main Terms of Ship Acquisition for MoD» (to replace the outdated document issued in 1983 before the Russian Federation became an independent state). The purpose of this document is to regulate the relationships between MoD organizations (customers) and industries (suppliers) regarding the contractual obligations (deadlines, quantities, quality). This document has been agreed by all concerned parties and submitted to the Government for final approval.
Customer — Russian Federation MoD.
Drawing up of Regulations on ship & vessel design & construction (2010–2011)
The Regulations define the procedure and work content in design and construction of ships and vessels, regulates the relationships between state customers, ship designers and builders, and federal authorities responsible for the state policy and regulation regarding the military industrial complex.
The Regulations were elaborated with involvement of research institutes, design bureaus, ship repair and shipbuilding yards, equipment suppliers, etc., on the one hand, and state customers' and federal authorities, on the other hand.
The Regulations were approved by the Military Industrial Commission of the Russian Federation Government on 24 May 2011.
Customer — Ministry of Industry & Trade of the Russian Federation.
Experimental investigation of ship cable combustion (2012–2013)
A series of experimental studies were conducted at the fire test facility of KSRC to determine the combustion characteristics of typical elements of combustion load components.
The first stage of experiments focused on ship cables of various grades.
The research was aimed to determine:
self-ignition temperature;
self-ignition heat flow;
mass burning rate;
linear speed of flame propagation over surfaces.
Experimental data was used to plot flame propagation speed and mass burning rate versus heat flow density on specimens, exposure time and orientation of specimen in space.
Customer — CDB ME RUBIN.
Development of new generation fixed fire-fighting systems for marine applications based on safe fire extinguishing agents (2009–2011)
It was a co-operative project with Malakhit, AKIN and Prikladnaya Khimia Research Center. The purpose was to develop new fire-fighting systems friendly and safe for the environment, crew, cargo and ship equipment.
The following fixed fire-extinguishing systems were developed:
nitrogen and aquafog system;
chemical (PFK-49 halon) fire-smothering system;
medium- and high-pressure aquafog system;
aerosol fire suppression system of enhanced safety.
The above systems are suing safe fire extinguishing agents like nitrogen, water, fluoride, fluoride-containing cetone, fire-extinguishing aerosols.
The tests confirmed the high-efficiency of systems. The rated fire-extinguishing concentration of nitrogen is about 28% due to a combined effect with aquafog, which is more than 30% less than required for fire suppression with nitrogen only. The system also provides efficient cooling of structures and smoke deposition within the affected compartment.
Customer — Ministry of Industry and Trade, Russian Federation.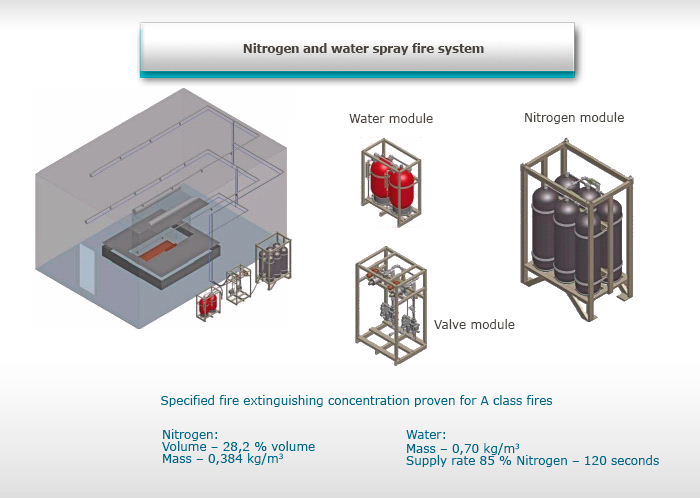 Proposals for optimization of fire protection on ships with hull structures made of polymer composite materials (2009–2011)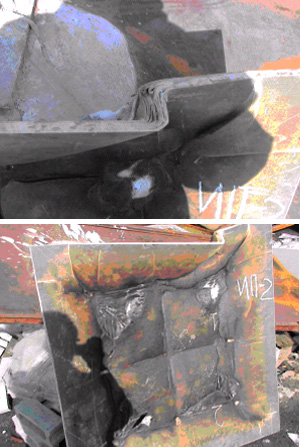 Experimental and theoretical studies were performed to determine the strength of ship hull structures made of polymer composite materials (PCM) exposed to elevated temperatures during fires.
General recommendations were given regarding fire safety measures for ships and vessels with PCM hull structures.
The main hazard in this case is lower resistance to elevated temperatures caused by fire accidents as compared to traditional steel structures.
Special-purpose test rig developed for this research was used to test the advanced PCM structures under temperature and mechanical load conditions characteristic of ships. Based on the experimental data the method was proposed for engineering evaluation of current temperatures in structure layers and variation of structural strength characteristics.
Customer — CISM Prometei.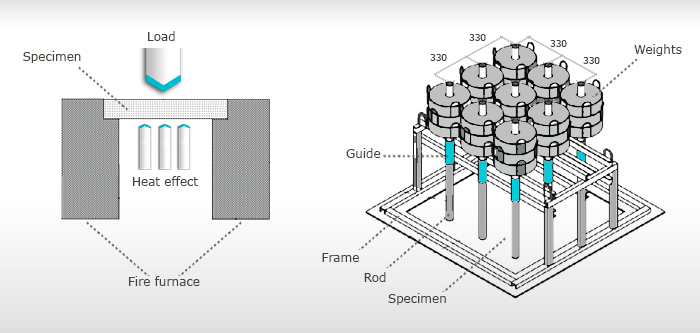 A package of software & methods was developed for formal fire safety appraisal of civil ships and vessels (2009–2011)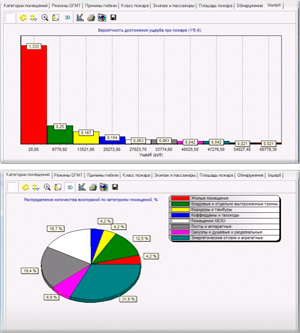 The purpose was to create the methods and software to be implemented in shipbuilding practices as a technology for formal safety assessment (FSA).

FSA technology presents a rational and systematic approach to risks assessments for shipping. This approach was called for in view of accident statistics at sea as well as inadequacy of regulations, which cannot cover all specific features of engineering structures. The purpose of FSA is to assess the cost implications and merits of design solutions in terms of risks mitigation.
The FSA methods have long been developed at the international level. The main distinction of the proposed FSA procedures is the use of computer simulation of the fire propagation based on the electronic ship model for developing the fire accident scenario and analysis of the accident consequences.
Electronic panel of accident manager on board the ship (2007–2009)
The electronic panel is an analogue of hardcopy documents issued by designers to support accident-prevention measures on board the ship, however it has a far better capabilities due to computer technologies. Visually, the panel presents interactive deck plans with details required for accident handling. The decision is supported by the following information:
dangerous directions of fire propagation;
possible constraints for application of equipment;
list of actions for accident confinement;
list of actions for accident elimination.
The electronic panel is able to store large amount of data with easy access to the relevant information. Unlike other known means of information support, this tool enables prompt response to varying accident conditions and gives advice based on the current situation.
As the operator inputs data on accident development, he is automatically displayed prompted:
dangerous directions of fire propagation;
possible barriers, personnel and tools in hand;
list of equipment subject to failure risk;
methods and tools of de-energizing and sealing of the affected circuit;
expected status of hardware in case of damage and anti-accident measures.
At the operator's request the deck plans may also indicate locations of accident-prevention tools, ship equipment, category of compartments, types of enclosures, etc.
Electronic panel is also able to generate a package of documents issued by designer in support of accident prevention.
Customer — Federal Agency of Industry.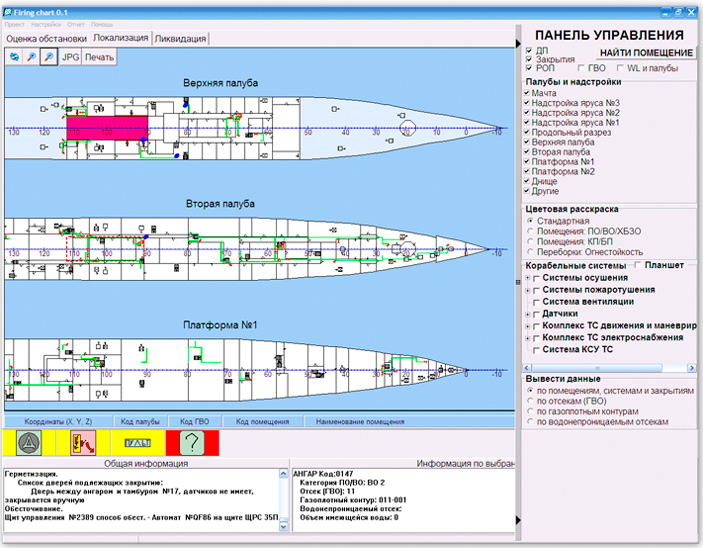 Customers and contractors
The Division has maintained long-term cooperation with shipbuilders and suppliers of outfit equipment, weapons & sensors as well as with the R&D institutions of MoD. Our customers and contractors include:
JSC SPBM MALACHITE
JSC CDB ME RUBIN
JSC Severnoye Design Bureau,
JSC Nevskoe Design Bureau
JSC Almaz Central Marine Design Bureau
JSC Zelenodolsk Design Bureau
JSC Iceberg Central Design Bureau
JSC Alexeev Central Hydrofoil Design Bureau
FSUE Central Research Institute of Structural Materials «PROMETEY»
JSC Afrikantov Experimental Design Bureau for Mechanical Engineering
JSC Kaluga Turbine Plant
JSC Zavod Kirov-Energomash
JSC NPO Saturn
JSC Special Boiler Design Bureau
JSCo «PO Sevmash»
JSC Concern «Avrora»
JSC Concern CSRI Elektropribor,
JSC Concern Gidropribor
JSC Concern Okeanpribor
JSC Concern «Granit-Electron»
JSC «Academician v. P.Makeyev State Rocket Centre»
JSC GNPP «Region»
JSC Admiralty Shipyards
JSC Baltyisky Zavod
JSC Shipbuilding & Shiprepair Technology Center
JSC Concern Morinformsystem-Agat
FRPC OJSC 'RPA 'Mars'
JSC Central Scientific Research Institute «KURS»
FSUE Andreev Acoustic Institute
JSC NPP Raduga
JSC Sukhoi Design Bureau
JSC BERIEV Aircraft Company
JSC Yakovlev Design Bureau
JSC Kamov
Federal Center for Dual-Use Technologies «Soyuz» is
FSUE GosNIILC Raduga OKB «Agat»
FSUE GNC RF TRINITI
JSC VNII Transmash
JSC State Research Navigation-Hydrographic Institute (GNINGI)
FSUE D. I. Mendeleyev Scientific and Research Institute for Metrology (VNIIM)

The Division keeps good business relations with the leading R&D institutions of MoD:
Kuznetsov Naval Academy
Naval Shipbuilding & Weaponry Research Institute (1st TSNII MoD)
Research Institute for Operational & Strategic Studies (24th TSNII MoD)
4 NIU NIC АТ & В 4 TSNII MoD
Rescue & underwater technology Research Institute (40 GNOI MoD)
46th TSNII MoD and many other institutions