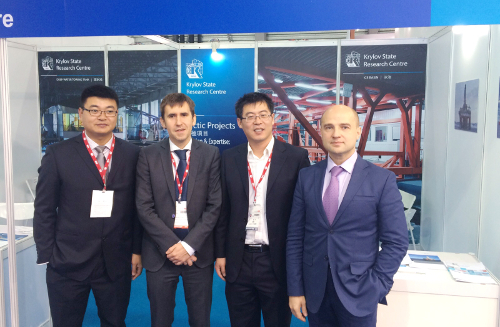 The international maritime fair Marintec China was held in Shanghai, China, from 1 to 4 December 2015. Marintec China is recognized as the largest trade show in China attracting an increasing number of high-profile exhibitors and visitors from around the world. The main showcases of the Krylov Centre at this event were arctic-related competences of the company including model tests, project appraisal and design of ships and marine facilities for sustained operation in harsh arctic environment. Propeller design and test services as well as electric propulsion solutions presented by Krylov also attracted keen interest of the exhibition guests. The Krylov booth was a busy meeting place where various discussions and negotiations were held on current and future projects with representatives of major Chinese corporations: CSIC (China Shipbuilding Industry Corporation) and CSSC (China State Shipbuilding Corporation), maritime research institutes: MARIC, SDARI (Shanghai Merchant Ship Design and Research Institute), CSSRC (China Ship Scientific Research Center), and shipbuilding yards: Yantai CIMC Ruffles, Shanghai Shipyard, Hudong Shipyard, Waigaoqiao Shipyard, Guangzhou Shipyard, as well as designers and manufacturers of propellers and propulsion systems, research units of shipping companies including COSCO Shipyard Group, and also leading China's maritime universities.
Apart from the Chinese maritime community, the Krylov Centre exhibits attracted visitors from many other Asian and European companies.
The Krylov Centre scientists and engineers also took part in the international seminar «Opportunities and prospects of cooperation between Russian and Chinese maritime industries» where they presented advanced capabilities and latest projects of the Krylov State Research Centre. The seminar was hosted by the Russian Consulate General in Shanghai and arranged with an active support of the Russian Maritime Register of Shipping.