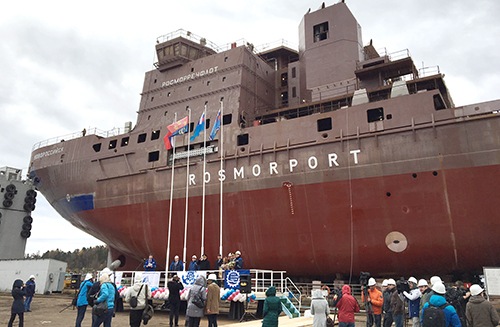 On 29 October 2015 the diesel-electric icebreaker Novorosiisk being built to the design of CDB Baltsudoproekt (Krylov State Research Centre) was launched afloat in Vyborg.
Two and a half years ago, in 2012, keels of three sister diesel- electric icebreakers of upgraded design (Project 21900 М) were laid down at the Vyborg Shipyard. The technical design was executed by Balsudoproekt. The customer is Rosmorrechflot (Federal Agency of Marine and River Shipping). The first ship in a series Vladivostok was launched in April 2014. The second sister ship Murmansk was launched in March 2015 in Helsinki at Arctech Helsinki Shipyard (Finland) commissioned to do outfitting jobs under subcontract, while Novorosiisk a third ship in that series of diesel-electric icebreakers is under construction at Vyborg Shipyard. All ships are scheduled to enter into operation in 2015–2016 as per the federal target program Development of Russia's Transport System (Marine Transport subprogram) for 2010–2020.
The icebreakers are designed to independently pilot large-size vessels, to tow ships and floaters in ice and open water, to assist disabled vessels in ice and open water, as well as to carry containers on weather upper deck.
The innovative design of Project 21900 М is an upgrade of Project 21900 of two earlier built legendary icebreakers Moskva and Sankt-Peterburg also designed by CDB Baltsudoproekt.