22 may 2017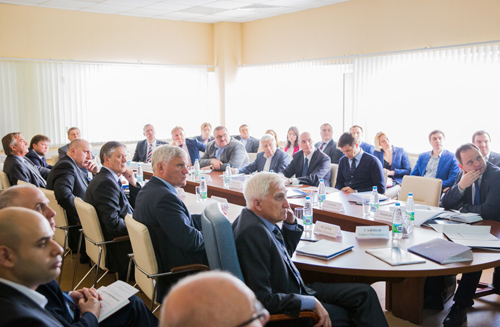 The second seminar dedicated to the aspects of design for 120 MW icebreaker-leader (project 10510) was held on May 19 at the Krylov State Research Centre. The event was attended by representatives of core industry players involved in the project: Federal State Unitary Enterprise «Atomflot», United Shipbuilding Corporation, State Atomic Energy Corporation ROSATOM, «Gazprom Neft» PJSC; «Yamal LNG» JSC, «Afrikantov Experimental Design Bureau for Mechanical Engineering» JSC, Russian Maritime Register of Shipping, «Baltic Shipyard — Shipbuilding» LLC, «Severnaya Verf» Shipbuilding Plant, PJSC, as well as by Deputy Director of the Department of Shipbuilding Industry and Marine Technology (Russian Federation Ministry of Industry and Trade) N.v. Shablikov.
During seminar, the leading research scientists of KSRC have delivered their papers addressing not only the design aspects for nuclear-powered icebreaker itself but also the design of electric propulsion system and the results of icebreaker model tests performed at the unique ice basin of the Krylov State Research Centre. The seminar participants attended show-case model tests demonstrating nuclear-powered icebreaker-leader operation with gas tanker in 2m ice and with tanker following the icebreaker in ice channel.
The actual tests were carried out in April as a part of technical design efforts. The purpose of the experiment was to find out whether selected hull lines of the icebreaker-leader ensure the required parameters for escorting heavy-tonnage vessels in 2m ice. The obtained data proved the full compliance with the requirements specified for the icebreaker. These tests are of prime importance in the design of nuclear-powered icebreaker intended for escorting vessels in Eastern part of Arctic with the heaviest ice conditions. As it has been noted by Vladimir Vorobiov, Chief Designer of CDB «Iceberg» (KSRC design unit) during the April tests, «after the construction of "Leader" we will consider the Northern Sea Route as regular year-round navigation path».