Вы используете устаревший браузер, который не поддерживает такие современные технологии как HTML5 и CSS3, используемые на этом сайте.
Просьба воспользоваться современным браузером
Chrome
,
Opera
,
Firefox
Integrated solution to EMC problems for naval and commercial ships, marine structures and vehicles including electromagnetic environment evaluations.
KSRC offers:
Development of administrative & engineering measures for ship designers and equipment manufacturers;
Guidelines for calculation of:

Electromagnetic field levels in the internal spaces and on the upper deck of ships with operating radio communication and radar equipment;
Shielding of rooms, equipment and cable routes with consideration of various shielding configurations;
Induced electric interferences in control and communication cables, earthing circuits and other electronic units;

EMC examination of the ship's electronic systems to ensure that EMC measures are complete and sufficient and equipment arrangement requirements are justified;
Estimation of resistance to strong electromagnetic pulses (including those caused by radioactivity) for radioelectronic equipment and its individual components
Examination of design documents, inspections of full-scale industrial objects and transport vehicles intended to identify the sources of electromagnetic interferences hindering the operation of radioelectronics and personal computers as well as to determine electromagnetic field levels;
Justification of necessary and sufficient scope of tests with respect to EMC parameters of the equipment to be installed on the objects;
Scientific support for the development of measures intended to ensure EMC of the equipment at industrial objects and transport vehicles;
EMC testing;
Methodical support for the activities intended to bring the electromagnetic emission levels at working places in compliance with medical requirements.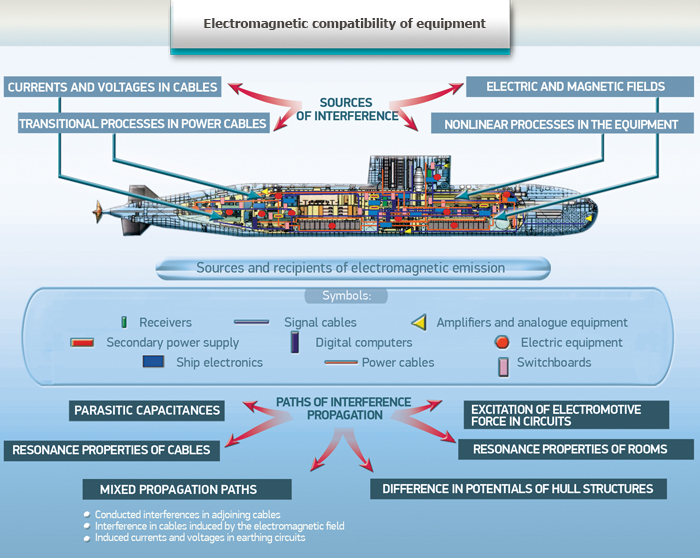 Studies and practical activities are performed using a unique mobile EMC measurement system which consists of:
equipment for measuring electric and magnetic fields, power flux density, voltages and currents within the frequency band from 0 Hz to dozens of GHz;
low-frequency spectrum analyzer, frequency band 16 Hz-12,5 kHz, stand-alone power supply;
high-frequency spectrum analyzer, frequency band 9 kHz-26 GHz, stand-alone power supply;
portable simulators of electromagnetic interference.
Mobile system is used to:
perform field tests at the sites of electronic equipment manufacturers;
reduce costs and duration of tests;
skip the tests at special-purpose EMC test rigs.