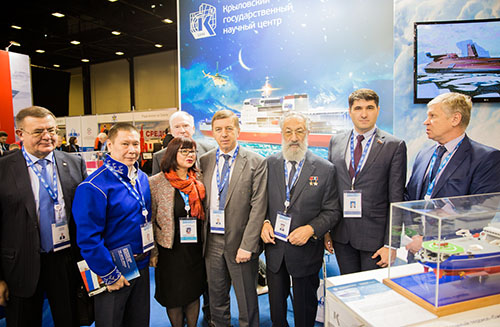 The Krylov State Research Centre, the leader in development and design of vessels and marine facilities of the Arctic class, presented its new projects at VI International forum «Arctic: today and the future» that was held on December 5–7 at ExpoForum convention and exhibition centre, St. Petersburg.
During the event IRPO «Association of Polar explorers» headed by Artur Chilingarov and acting as Forum organizer, defines the approach and areas of interaction between the society and governmental authorities for the development of the Russian Arctic. Moreover, the Forum's program is worked out considering the key challenges of the Strategy for Russian Arctic development.
During the panel sessions and round-table discussions KSRC presented a number of papers on the relevant issues concerning the development of Arctic technologies for exploration and production of mineral resources at the Arctic shelf, building up of infrastructure and technical facilities required to provide navigation at the Northern Sea Route.
The models of Arctic class vessels and marine facilities being under the different stages of design, construction and operation were displayed at KSRC exhibition booth. They include advanced nuclear icebreaker «Leader» designed by CDB «Iceberg», port icebreaker (project 30044) for operation in Sabetta port (Yamal peninsula) that is constructed as per detailed design documentation of another KSRC affiliate CDB «Baltsudoproekt», research ship for comprehensive fishery and oceanographic surveys that is also designed by «Baltsudoproekt». During the Forum KSRC developments were presented to such distinguished guests as Stanislav Chui, Director of the Shipbuilding and Marine Facilities Department of the Ministry of Industry and Trade of the Russian Federation, and Artur Chilingarov, special representative of the President of the Russian Federation on international cooperation in the Arctic and Antarctic and the President of IRPO «Association of Polar Explorers».