Вы используете устаревший браузер, который не поддерживает такие современные технологии как HTML5 и CSS3, используемые на этом сайте.
Просьба воспользоваться современным браузером
Chrome
,
Opera
,
Firefox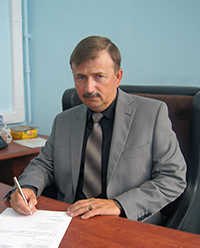 Head of Ship propulsion Division
Valery O. Borusevich
Cand. Sc. (Tech.)
The Hydrodynamics Division is the oldest and fundamental research unit of the Krylov Centre which was set up back in 1894 with the commissioning of the first Russian Towing Tank in St. Petersburg, then located in the downtown area known as Novaya Gollandya (New Holland). Nowadays the experimental facilities available for hydrodynamic research studies include 5 test tanks for a range of different tasks, a family of cavitation tunnels and a wind tunnel.
The ultimate verification of the obtained solutions is done experimentally using the modern test equipment and instrumentation. The highly qualified staff and valuable experience gained over more than a century-long history of the hydrodynamic research combined with the state-of-the art test hardware and instrumentation provide us with core competences to deal with any challenging tasks in hydrodynamics and accomplish our job within short time to the satisfaction of our customers.