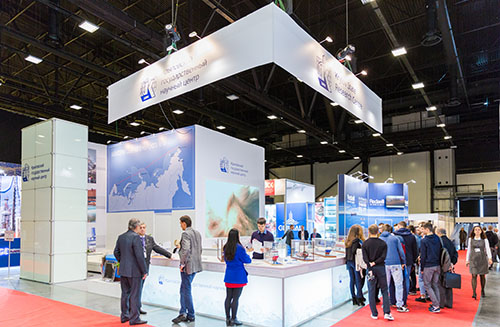 The Krylov State Research Centre took an active part in Marintec Russia Exhibition and Conference (dealing with the topics of shipbuilding and offshore infrastructure) hosted by the St. Petersburg ExpoForum Convention and Exhibition Centre during 4 to 7 October 2016.
Krylov Centre's scientists and engineers presented a range of papers addressing hot issues and urgent tasks related to development of innovative and advanced technologies and marine facilities for exploration, production and export of hydrocarbons hidden in the Russia's Arctic shelf. Specific design solutions developed by the Krylov Centre were presented at the company's exhibition.
In the opening address to the Conference Plenary Session (titled «Strategic goals and priorities of oil and gas resources development of the arctic and continental shelf of the Russian Federation») Academician Aleksei Kontorovich, Chairman of the Scientific Council on geology and development of oil & gas fields (Russian Academy of Sciences) highly appreciated Krylov Centre's contributions to innovative technological developments for Arctic applications, often unique with no similar solutions abroad.
At the exhibition Krylov's booth was attended by many high guests: Deputy Minister of Energy K. Molodtsov, Deputy CEO Gazprom v. Golubev, Vice President Lukoil I. Mandrik, Academician A. Kontorovich and other VIPs who were eager to find out more details looking at models of advanced icebreakers, Arctic class supply ships and hydrocarbons carriers designed by Krylov's design units: JSC CDB Iceberg & CDB Baltsudoproekt.
On the very first day of the exhibition Krylov's exposition was visited by Stanislav Chui, Director of the Shipbuilding and Marine Facilities Department of the Russian Federation.
In general, Krylov's exposition was noted for a range of diverse exhibits and attracted keen interest of numerous participants and guests of Offshore Marintec Russia 2016.