Вы используете устаревший браузер, который не поддерживает такие современные технологии как HTML5 и CSS3, используемые на этом сайте.
Просьба воспользоваться современным браузером
Chrome
,
Opera
,
Firefox
KSRC high-speed vessels at Gidroaviasalon' 2016
3 october 2016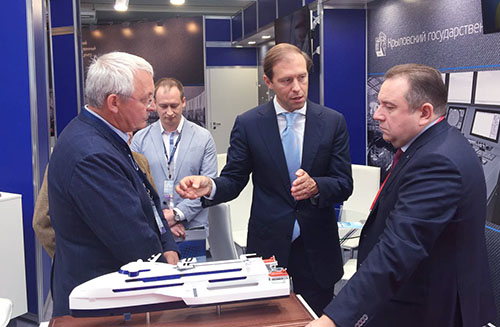 The 11-th International Exhibition and Scientific Conference on Hydroaviation Gidroaviasalon-2016 took place from September 22 to September 25, 2016 in Gelendzhik. Extensive business program included a number of conferences, seminars and round tables. Advanced technologies used in the design of high-speed vessels and current challenges in establishment of high-speed fleet were discussed by representatives of different companies such as JSC «Zvezda», CRISM «Prometey», Bauman Moscow State Technical University, Shipbuilding company «Aerohod» Ltd. at the round table organized by the Krylov State Research Centre.
One of KSRC competences was represented at company's exhibition stand, in particular — a line of high-speed passenger vessels demonstrating the whole range of demands of potential customers in the Russian Federation confirmed by the results of working meetings. Exposition concept was approved by the Minister of Industry and Trade Denis Manturov who visited the KSRC stand during the exhibition opening session. The Minister was particularly interested in the advanced architecture of developed vessels; special attention was drawn to the projects of high-speed ice-class trimaran intended for year-round shipping at distant sea lines and passenger catamaran «Sapsan» for inland waterways aimed to replace the vessels like «Kometa», «Kolkhida», «Katran». The President of the United Shipbuilding Corporation Alexei Rakhmanov was among VVIPs visiting the KSRC stand. Further cooperation between the Krylov Centre and the United Shipbuilding Corporation for showcased projects was highly recommended by the Minister.