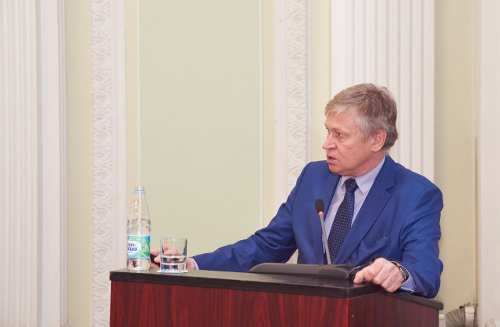 The second International specialized exhibition «Import Substitution» aimed to demonstrate the development potential of Russian enterprises and organizations in manufacturing competitive import-substituting products and services was held from 13 to 15 September 2016 in Crocus Expo IEC in accordance with Executive Order of the Russian Federation Government. In the course of round table «Import substitution in commercial shipbuilding. Outcomes and prospects» which took place during the last day of exhibition, i.e. on September 15, 2016, the participants discussed the main outcome of import substitution program implementation for the first half of 2016 and further incentive measures to boost the progress in this area.
One of the main papers «Current activities of the Chief Designers' Council (ship machinery & instrumentation)» was delivered at the round table by Oleg Timofeev, Deputy Director General of the Krylov State Research Centre — Council's base scientific institution. As it was reminded by Mr. Timofeev, the Chief Designers' Council was established by the order of the Minister of Industry and Trade of the Russian Federation in November 2015 with its major task to implement integrated scientific and technical policy for design and manufacturing of ship machinery and instrumentation. Deputy Minister of Industry and Trade Alexander Potapov was appointed as a Chairman of the Council and the heads of working groups were assigned as follows:
KSRC Director General v. S. Nikitin — ship machinery,
Director General of Concern CSRI Elektropribor, JSC, academician v. G. Peshekhonov — ship instrumentation.
Oleg Timofeev further on advised round table participants in greater detail about import substitution challenges that were discussed at the Council meetings during the first half of the year 2016. In particular, the matters of establishment of «The main trends in ship machinery and instrumentation development for implementation of current governmental programs», innovative dual-use technologies in ship machinery and instrumentation etc. Optimization of Customer — Designer economic considerations attained for the projects of nuclear-powered icebreaker LK-60 (designed by CDB Iceberg) and naval ship of project 14400 (designed by CDB Baltsudoproekt, integral part of the Krylov State Research Centre) with maximum involvement of domestically-produced equipment (10% and 0% of imported equipment respectively) was named by Oleg Timofeev as a positive example of successful activities of the Council and its Working Group (ship machinery).