Вы используете устаревший браузер, который не поддерживает такие современные технологии как HTML5 и CSS3, используемые на этом сайте.
Просьба воспользоваться современным браузером
Chrome
,
Opera
,
Firefox
Innovative shipbuilding at the Eastern Economic Forum
12 september 2016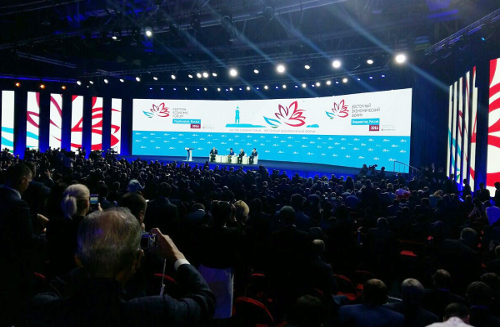 On September 3 the Krylov Centre took part in the Plenary session of the Eastern Economic Forum (EEF-2016), where the Russian President Vladimir Putin outlined the main vectors of the Far East development. Apart from such fields of cooperation with the Eurasian countries as transport, energy, information technologies and education, special attention was given to the development of shipbuilding and offshore oil and gas projects.
No wonder that one of the first events held by the Russian President at the Far East was the visit to rapidly developing Far Eastern shipyard Zvezda. The representatives of the Krylov Centre were also invited to the mentioned shipyard.
At one of the events preceding EEF-2016, the Director General of the Krylov Centre Vladimir Nikitin addressed the session of MariNet working group that forms part of the National Technology Initiative. In his address Vladimir Nikitin pointed out that the subgroup «Innovative shipbuilding» led by the Krylov Centre is reviewing quite a large number of advanced projects related to new approaches in the development of vessels, marine power plants, life-saving and automation equipment. Particular attention was given to the development of unmanned vessels. The Krylov Centre can become a platform for integration of technologies allowing the development of various dual-purpose unmanned vessels. The specialists of the Krylov Centre have already started the discussion aimed at the development of conceptual approaches for designing a range of unmanned vessels.