Вы используете устаревший браузер, который не поддерживает такие современные технологии как HTML5 и CSS3, используемые на этом сайте.
Просьба воспользоваться современным браузером
Chrome
,
Opera
,
Firefox
Krylov State Research Centre at International Oil & Gas Industry Exhibition and Conference OSEA 2014
6 december 2014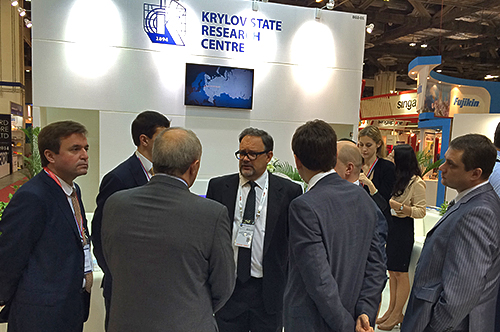 Krylov State Research Centre took part in 20-th International Oil & Gas Industry Exhibition and Conference OSEA 2014 held in Singapore between December 2 and 5, 2014. The first Exhibition dates back to 1976 and since then it proved itself to be the largest and the most influential event in Oil & Gas Industry both in Asia and worldwide.
The latest hi-end solutions for Arctic shelf exploration presented at company's stand aroused a keen interest of guests and partners of the Krylov Centre. Company representatives actively participated both in conference business program and in discussions of official Russian delegation organized under the auspices of the Russian Ministry of Energy. The Exhibition became a platform for business meetings and negotiations between its visitors and guests — industry senior staff and experts including global key players of shipbuilding industry representing Asia-Pacific region and world's leading oil & gas operators. In particular, the negotiations between representatives of oil & gas companies and the Krylov Centre raised new possible avenues for cooperation at implementation of drill ship project aimed at exploration drilling in Arctic. The final goals are provision of local content in manufacturing of marine facilities and ensuring import substitution in the core industrial clusters of the Russian economy.