Вы используете устаревший браузер, который не поддерживает такие современные технологии как HTML5 и CSS3, используемые на этом сайте.
Просьба воспользоваться современным браузером
Chrome
,
Opera
,
Firefox
Cooperation agreement between Krylov State Research Centre and Far Eastern Shipbuilding and Ship Repair Centre was signed on December 12, 2014
12 december 2014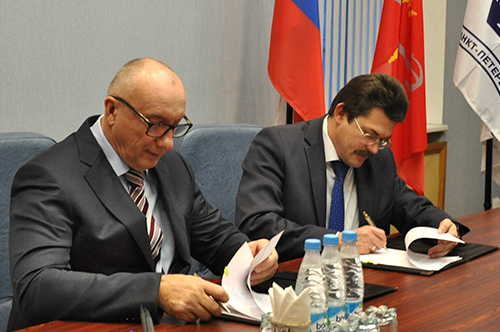 The cooperation will cover research activities related to ships and offshore engineering structures aimed at hydrocarbon development and production at Russian continental shelf. Both scientific and production activities will become the key lines of cooperation. It includes not only retrofit and modernization of FESRC-owned shipbuilding complex, but also the construction of ships, drilling platforms, LNG tankers and other marine facilities in terms of implementation of integrated up-to-date R&D concepts and know-how. Cooperation agreement covers the whole range of challenges regarding import substitution of materials and shipboard equipment and local content in manufacturing of marine facilities.
The scope of cooperation in scientific domain includes development and expert appraisal of offshore structures design aimed at safety ensuring and environmental control as well as at economics with a view to minimize the life-cycle costs for marine facilities and to ensure the compliance of operational excellence with future market trends.