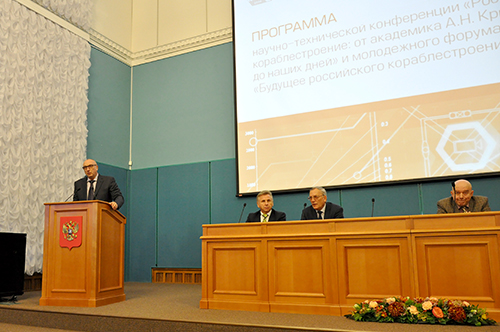 Photo: Plenary session of the conference
The Conference titled «Russian Shipbuilding: from Academician A. N. Krylov to our days» commemorated the 120-year anniversary as of the Centre foundation.
The Conference was open by Anatoliy Aleksashin, the Director General, who identified the key challenges to be addressed by the Krylov Centre's experts in the nearest future. Also, he advised of the decision made by the Municipal authorities to name the square in front of the Krylov Centre after Academician Pashin by paying respect to Valentin M. Pashin striving for the prosperity of the institute and development of its scientific & engineering potential and human resources.
Oleg Timofeev, Deputy Director General, Head of Arctic Engineering Center, presented his paper «120-year anniversary of the Krylov State Research Centre». He offered detailed description of the key activities implemented by the Krylov Centre recently in offshore engineering structures' domain and systematic studies for the participants and guests of the Conference.
The Conference included five sections: «Naval shipbuilding», «Commercial shipbuilding. Offshore engineering structures, development of ocean and offshore fields», «Hydrodynamics, propulsion performance and maneuverability of marine structures», «Physical fields of marine structures and ocean. Ship and industrial acoustics», «Ship electric engineering and power plants».