31 august 2013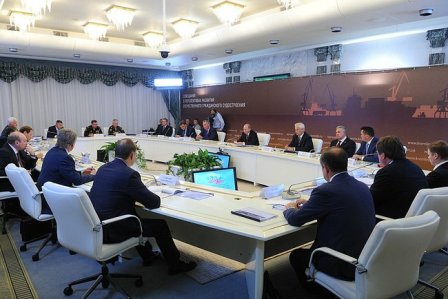 During his working visit to Primorski region, Vladimir Putin held a conference on the prospects of Russian commercial shipbuilding development. The participant of this conference were heads of federal ministries and agencies, heads of shipbuilding and oil& gas companies, as well as top-rank naval officers. KSRC Director General, Mr. Andrey Dutov, also took part in this conference.
The President has described shipbuilding as sophisticated high-tech industry of strategic importance because it means «basis for solving defense and economic problems, demand for Президент охарактеризовал судостроение как, сложную, высокотехнологичную отрасль, qualified personnel and scientific developments and new orders for Russian metal makers, machinery manufacturers and other branches of industry, and also a strong stimulus for development of entire regions of the Russian Federation».
«Thanks to increase in defense order, noted Putin, our naval shipbuilders feel confident enough, their facilities are loaded, whereas commercial shipbuilding still cannot gain steady momentum for development and, let us say it pointblank, looses in competition».
According to President Putin, «the customers coming to Russian enterprises cannot have clear guarantees in terms of schedule, costs and quality of production. Naturally, the companies are reluctant to run such risks and choose foreign manufacturers ordering vessels in China, Korea and in other countries. These manufacturers offer fixed contract terms, they honour their commitments and do not complain about so called objective difficulties and circumstances, their prices do not tend upwards, they do not play with tariffs and do not complain about deliveries of steel or accessories».
«Such strict contract and technological discipline is surely a good practice that should be implemented at Russian enterprises, too. Russian shipyards must become convenient and profitable partners. Our potential domestic market remains very vast».