19 october 2017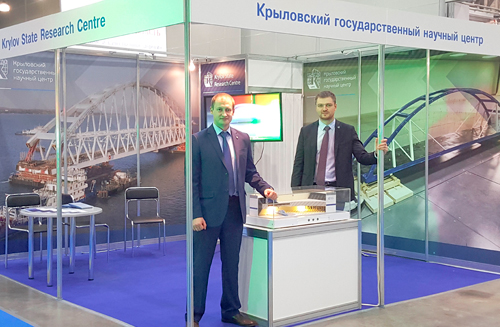 Krylov's researchers from the hydro-aerodynamic division took part in the ROADEXPO-2017 held in Moscow, at CROCUS EXPO Exhibition Center, from 10 to 13 October. ROADEXPO is one of the major specialized exhibitions in Russia highly appreciated not only by professionals directly engaged in the road industry sector but also winning the attention of allied transport and construction sectors, because this event is intended to span all aspects of road infrastructure development.
Traditionally, the Exhibition is gathering many designers of road infrastructure, in particular bridge engineers. The Krylov Centre showcased its Landscape Wind Tunnel facility, whose model was exhibited at Krylov's stand. This test facility is among other things intended for investigation of long-span bridges. Experts from the Krylov Centre S. Yu. Soloviev and v. V. Sokolov briefed visitors on the studies conducted at KSRC in support of the Crimea Bridge Project, including aerodynamic experiments, tests in ice basin, experimental and numerical simulation of the marine operation for transportation of bridge spans to the site of installation, etc.
The most inquisitive visitors were reps of Stroyproekt Engineering Group and Federal Automobile Road Directorate «Taman» — authorized as state customers for the Crimea Bridge project, as well as people from Moscow City Expert Examination Board.