Вы используете устаревший браузер, который не поддерживает такие современные технологии как HTML5 и CSS3, используемые на этом сайте.
Просьба воспользоваться современным браузером
Chrome
,
Opera
,
Firefox
Baptizing of Krylov's New Ice Basin
5 december 2014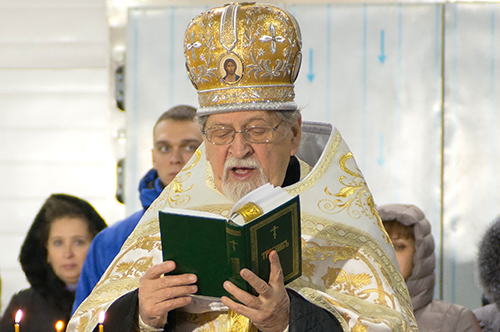 Photo: Baptizing of the new Ice Basin at KSRC
Baptizing of Krylov's New Ice Basin on the 4th of December is timed with the 120th anniversary of KSRC.
The ceremony was conducted by the Senior Priest of St. Nicholas Naval Cathedral, St. Petersburg, Father Bogdan (Soiko) and attended by Director General A.A. Aleksashin, staff of the Ice Basin and related departments of Krylov State Research Centre. Upon baptizing the Ice Basin, Father Bogdan presented the Icon Nicholas the Wonderworker to the Krylov Centre. After the ceremony Father Bogdan was explained the Ice Basin design and functions, shown around the operating rooms and exhibition hall.
The official record of the Krylov State Research Centre dates back to 1894 when the first Towing Tank in Russia was inaugurated by the Emperor Alexander III. Outstanding scientists and engineers like D.I. Mendeleyev, A.N. Krylov, I.G. Bubnov were involved in the establishment of the facility and management of tests.