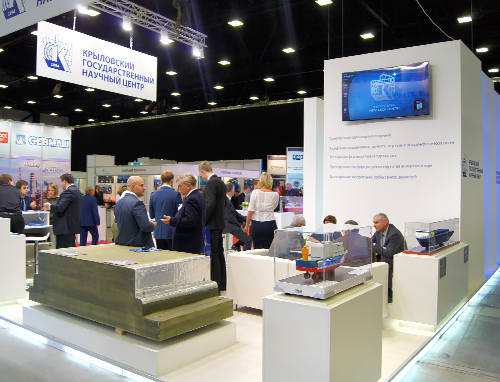 The Krylov State Research Centre took part in the International Exhibition Offshore Marintec Russia 2014 held in St. Petersburg from 7 to 10 October. This event was dedicated to the high-tech solutions for development of Arctic and Continental Shelf resources and gathered under one roof over 200 companies and about 3000 experts and specialists from the relevant sectors of industry.
The Krylov State Research Centre presented advanced designs for the Arctic offshore: pipe-laying ship designed to operate in broken ice, crane ship for construction of offshore oil & gas facilities in the Arctic as well as projects in the field of hydrogen economy, electric engineering and composite materials for offshore and shipbuilding applications.
The most notable projects among those presented by the Krylov Centre are a fuel cell battery based on solid polymer electrolyte, the first in Russia, underwater station for recharging autonomous underwater vehicles (AUVs) being an integral part of the system for monitoring offshore hydrocarbon fields in Arctic.
Krylov also presented a module of composite thermal insulation panels for onshore and offshore LNG storages along with production technology for enabling Russian producers to manufacture the thermal insulation panels by using prevalently domestic materials.
During the Exhibition the KSRC stand has been visited by Deputy Chairman of the Russian Government Arkadiy Dvorkovich, Deputy Minister of Industry and Trade Andrei Dutov, Deputy Minister of Energy Kirill Molodtsov, Argentine Minister of Industry Débora Giorgi, Deputy Chairman of the Board JSC Gazprom Valeriy Golubev, Academician Aleksei Kontorovich, Director of Oil and Gas Geology Institute of United Geology Institute.
Experts have specially underlined that the KSRC projects offer promising and advanced solutions in view of import substitution requirements and active efforts to develop home industry. KSRC is currently involved in negotiations with existing and potential customers regarding the above-mentioned projects.
The Krylov's stand has won the award of the Best Informative Stand at the Exhibition.