29 july 2013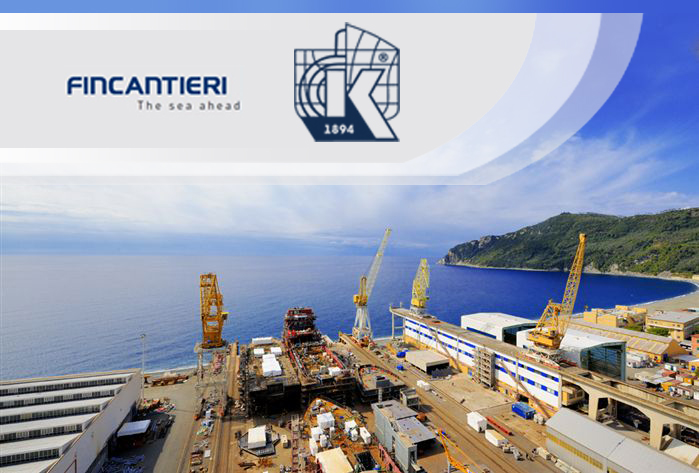 Fincantieri, one of the global shipbuilding leaders, and KSRC, one of the flagship centres in shipbuilding studies, signed basic agreement for joint development of new innovative projects.
The Agreement with initial validity period of 5 years stipulates that the partners will launch a number of initiatives in corresponding fields, including joint research and development projects, implementation of new-generation products and rendering of services.
For Fincantieri this agreement is not only the way to technological advance but also a very important strategic achievement. Really, unique research and test facilities of the KSRC might be extremely useful for the Italian company in developing most efficient ships and marine structures complying with the most demanding global standards.
KSRC, in its turn, will also benefit from the cooperation and knowledge exchange with Fincantieri, because it provides access to the huge stock of technical and production know how regarding construction and market promotion of sophisticated ships.
Joint work of the two companies will open a new page in the history of special shipbuilding and Russian-Italian cooperation. The first joint development project for a sophisticated ship will be identified in the nearest future.
Guiseppe Bono, President of Fincantieri: «We think that the agreement with KSRC, most influential globally recognized shipbuilding research centre is a strategic decision. We are convinced that technical innovations, as key driver of progress, are the most important tool to resist destructive crisis effects similar to those that have resulted in ongoing changes of global scenario. The cooperation with our Russian colleagues might contribute to our advance in this field and foster further development and maintaining of leadership and high quality of work.
Andrey Dutov, Director General of the KSRC: «Hopefully, the cooperation between other companies based on unique engineering and design experience and state-of-the-art research facilities of the KSRC, combined with profound experience of Fincantieri in design and construction of various marine structures will provide a synergic effect in development of modern high-tech marine structures and result in their successful sales at the global shipbuilding market.
Fincantieri is one of the largest shipbuilding corporations in the world with output of over 7,000 ships for more than 200-year history. The company is a global leader in cruise ship design and an influential manufacturer of other technology, from naval ships to commercial sea-going ferries, from mega yachts to special ships with high added-value level, as well as of technology for repair and upgrade of ships and offshore platforms.
The head office of the corporation is in Triest, the total number of employees is about 20, 000 people, including 8,400 employees in Italy; the company owns 21 shipbuilding yard at three continents, its total income is 4 bln. Euro. Besides, with recent acquisition of STXOSV, the company permitted to trade at the Singapore stock exchange and currently rebranded into VARD, Fincantieri doubled in size and is now the 4th largest shipbuilding company in the world, with only three Korean companies ahead, and is also the only Western manufacturer offering the full range of high added-value products in each of the industrial sector and capable of competing with Asian giants.
Fincantieri also has its branch in the USA, FincantieriMarineGroup (FMG). This company dealing with both private and public customers (including US Navy and US Coast Guard) owns three shipyards (MarinetteMarine, BayShipbuilding, AceMarine) located at the Great Lakes.
In UAE Fincantieri is represented by EtihadShipBuilding company, a joint venture between MelaraMiddleEast and AlFattanShipIndustries for development, construction and sales of commercial vessels and naval ships of various types, as well as for technical maintenance and retrofitting of existing ships. Since 1990 Fincantieri has built 65 cruise vessels with total worth of 28 bln. USD.
KSRC, with its over 100-year history, is one of the global leaders in research and design of sophisticated vessels and marine structures. Unique research and development facilities of KSRC allow solving most complicated shipbuilding problems in hydrodynamic, strength, power, acoustics, physical signatures, as well as predicting and justifying Russian construction programs for ships and marine structures.
Since its foundation, KSRC has tested over 12,000 models of ships and other marine structures and over 20,000 of full-scale and semi-fullscale hull structures, and designed over 10,000 propellers and other propulsors, developed designs for over 2600 ships and vessels and reviewed over 2000 designs of ships and other marine structures.
KSRC functions as an industrial system integrator and modernization driver of Russian shipbuilding by means of its innovative and integrated scientific developments and subsequent scientific and technological support for implementation of these developments. In terms of international cooperation, KSRC has a wide geography of customers and develops innovative designs of marine technology in compliance with most demanding quality standards.