Вы используете устаревший браузер, который не поддерживает такие современные технологии как HTML5 и CSS3, используемые на этом сайте.
Просьба воспользоваться современным браузером
Chrome
,
Opera
,
Firefox
KSRC offers:
Integrated Kaskad-type systems for management of the ship's electric field and corrosion protection of hull and propellers;
STAR3D Electric software for numerical simulation of corrosion protection systems for ships and other marine structures;
A system of standard electric isolation arrangements for underwater hull structures made of dissimilar materials;
Guidelines and equipment for measuring the ship's electric signature and processing of measurement results;
Package of regulatory and technical documents on ship electric signature reduction and corrosion protection in ship design, construction and operation;
Development of test facilities for laboratory tests and sea trials;
Design appraisal of ships and marine structures with regard to corrosion protection and recommendations for the most efficient application of protection techniques;
Electric field studies in the electrolytic and stratified test tanks.
KSRC developments:
In support of ship design:
Design rules for electric signature reduction and corrosion protection tools and recommendations on the configuration of tools and techniques to be applied for various ship types;
Guidelines and software for calculating the electric signatures and corrosion protection parameters;
Guidelines on physical simulation of the electric field;
In support of ship construction:
Integrated Kaskad-type systems for the electric signature reduction and corrosion protection of hulls and propellers of various ships;
Quality control methods for tools of electric signature reduction and corrosion protection equipment on building berth and afloat (fitting-out);
In support of tests:
Guidelines for electric signature measurements;
Guidelines and software for extrapolating electric signature measurements to various distances and for calculation of dipole moments;
Guidelines for checking the operability of corrosion and electric protection tools.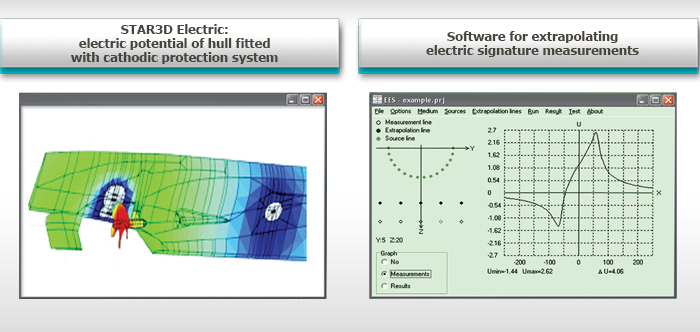 Advanced design technologies for corrosion protection of marine structures
KSRC designs corrosion protection systems as well as examines ready-made designs of such systems for offshore platforms and other marine structures.
The design and efficiency of corrosion protection systems is analyzed using STAR3D Electric software.
KSRC offers:
Selection of optimal corrosion protection system taking into consideration the type of structure, its operational conditions and designed lifetime;
Optimization of anode & reference electrode layouts;
Selection of number and type of sacrificial anodes, estimation of their lifetime with consideration of decay dynamics;
Prediction of corrosion protection efficiency in operational conditions.
A more advanced modification of conventional corrosion protection systems is offered using additional anode modules to be installed on the seabed.
Technology advantages:
Uniform distribution of the protective current over the surface of the structure;
Unlike the conventional onboard anode systems, the corrosion protection is not drastically degraded if one of the modules fails;
No requirement for anode shields;
Fast deployment of the anode modules during the fitting-out of structures afloat and in case of onboard anode failure;
Protection of metal structures on platforms moored in deep water.