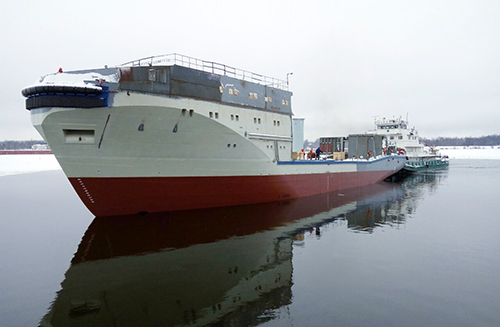 27 December 2016, Yaroslavsky Shipbuilding Yard launched Sergei Balk (Project 234700) to lead a series of sea-going tugs. This milestone event was witnessed by designers of CDB Baltsudoproekt.
The keel of the first tug (builder's number 410) was laid on 30 October 2014.
Since 2014 CDB Baltsudoproekt (design affiliate of the Krylov State Research Centre) has been engaged in the design of sea-going tugboats of Project 23470 for the Navy. A total of at least 5 sister tugboats will be built to meet the MoD requirement. The notable design features of these vessels include fully electric propulsion system, crane with roll damping, and helideck. In the design process Baltsudoproekt has successively coordinated the preliminary and basic design as well as class approval documentation of the vessel with the Customer and Regulatory Authorities. Today Baltsudoproekt is busy with preparation and issue of delivery/acceptance and operational documentation for the Project. Construction of the vessel was challenged by a range of issues, the most difficult problem being supply of outfit equipment in the context of import substitution drive.
Main Data:
RS Class: KM * Arc4 [1] AUT1 FF3WS EPP Helideck Tug
Length OA ………………………………………69.75 m
Beam, max………………………………………15.0 m
Depth to upper deck ВП……………………………6.7 m
Draught DWL ……………………………………………5.2 m
Speed, open water чистой воде……………………14 knots
Bollard pull……………………………………………………80 t
Endurance by provision……………………30 days
Range at 14 knots………………………3 000 miles