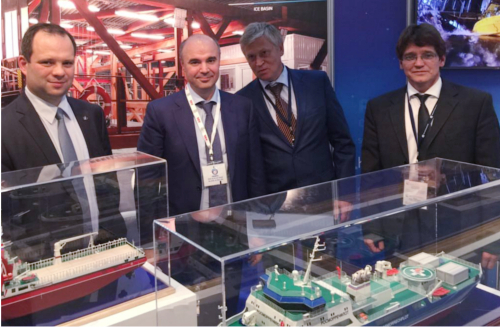 Early fall has seen multiple significant events in shipbuilding including International Military-Technical Forum «ARMY-2016» and the world's leading international maritime trade fair SMM 2016, attracting representatives of shipping companies, design bureaus, developers and manufacturers of marine equipment and technologies, officials, bankers and politicians to Hamburg.
Krylov Centre traditionally takes part in SMM exhibition showcasing new developments at its own stand in Russian pavilion. Apart from exhibition arrangements, KSRC representatives actively participated in business program of the exhibition. In particular, in the course of seminar held during the opening day and dedicated to matters of cooperation between shipbuilding companies of St. Petersburg and Mecklenburg-Vorpommern, Deputy Director General of KSRC Oleg Timofeev gave the participants an overview of the latest developments and capabilities of the Krylov Centre.
Vice governor of St. Petersburg Sergei Movchan and Head of Department of Shipbuilding and Marine Technique Stanislav Chuy got acquainted with KSRC exhibits and highly appreciated technical level and confirmed great demand for the developments demonstrated at KSRC stand.
Over 20 business meetings and negotiations between managers and specialists of the Krylov Centre and representatives of world's leading shipbuilding and shipping companies, design organizations and equipment manufacturers were held during SMM-2016. One of the main exhibition outcomes is the agreement between the Krylov Centre and «AdriaWinch» (one of the leading manufacturers of deck equipment with electro-hydraulic drives for oil and gas industry, fishing, passenger and merchant fleet localizing equipment production with one of Russian shipbuilding companies) to arrange practical training for young designers of KSRC both at company's engineering centre and on board of training fishing ship in Arctic.Hands-on experience of this kind will open new possibilities for specialists to have a closer look at new approaches in usage of modern controlled fishing gears and deck fishing equipment for further implementation of practical skills in finding design solutions at different stages of design of advanced vessels for Russian fishing industry.