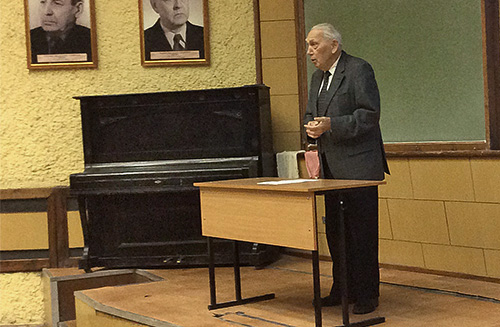 Photo: Oleg M. Paliy — keynote speaker
The Conference on ship structural mechanics dedicated to the memory of professor I.G. Bubnov, who devoted long years of his scientific deliberations to the Krylov Centre, and 110th anniversary of the chair of ship structural mechanics at the Marine Technical University, St. Petersburg, is scheduled to take place during two days, 23 and 24 December, at Lotsmanskaya 10, St. Petersburg.
This event has been co-organized by Krylov State Research Centre, St. Petersburg Marine Technical University and Central Board of the Russian Krylov Scientific and Technical Shipbuilder's Society.
On the first day, at the morning session of the Conference, the audience was welcomed by Evgeniy Appolonov, Rector of Marine Technical University. Key note papers were presented by O.M. Paliy «Krylov State Research Centre — maintaining traditions of ship strength science», V.V. Kozliakov «Analysis of global and local strength criteria evolution for sea-going ship hulls with consideration of strength norms developed by I.G. Bubnov in 1908», A.A. Rodionov «Chair of Structural Mechanics: from I.G. Bubnov to Present Day».