Вы используете устаревший браузер, который не поддерживает такие современные технологии как HTML5 и CSS3, используемые на этом сайте.
Просьба воспользоваться современным браузером
Chrome
,
Opera
,
Firefox
Inauguration of New Ice Basin at Krylov State Research Centre
5 december 2014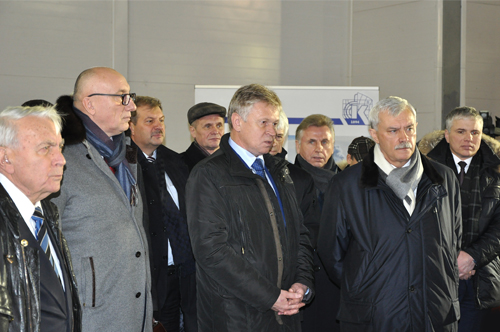 Photo: Inauguration of New Ice Basin
On 5 December 2014 the Krylov State Research Centre conducted the first practical test in its new Ice Basin. A symbolic ribbon was cut by the Governor of St. Petersburg Georgiy Poltavchenko and KSRC Director General Anatoliy Aleksashin. In presence of the dignitaries a test model of the «Leader» icebreaker was towed through an ice sheet by towing carriage.
It is symbolic that the first nuclear icebreaker «Lenin» was launched also on 5 December back in 1957.
Special attention in the Basin design was paid to the best possible visualization of ice/ship interaction processes, which Georgiy Poltavchenko could fully appreciate himself as he witnessed the course of experiment. The Governor has praised the Ice Basin and stressed that it opens up new opportunities for St. Petersburg shipbuilders in developing various ice-class marine technologies and securing the city's reputation as the center of Russian shipbuilding industry.
It followed after the Governor has received thorough explanations from Director General Anatoliy Aleksashin and other top scientists of the Krylov State Research Centre regarding the results of recent KSRC projects in the field of naval and commercial shipbuilding. After taking part in an extended session of Krylov's Scientific Board, Georgiy Poltavchenko has emphasized that the scientific and technical potential of Krylov as well as other St. Petersburg organizations and enterprises make us confident that the idea of National Technology Initiative made public by the President of Russia could be successfully implemented.