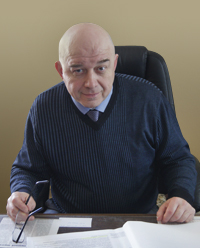 Head of Division for Transfer
of Advanced Multi-Disciplinary Technologies
Vitaly G. Khoroshev D.Sc.
This division was established on 4 February 2013in pursuance of the order issued by the Director General of Krylov State Research Centre.
The division is focused on the multi-disciplinary knowledge and transfer of the same to the marine technologies.
Fields of activities:
Forecasts and research studies of advanced technologies for developing a stock of forward-looking scientific and engineering solutions and application of these in marine technologies, including:
Exploratory studies and analysis of results obtained in fundamental research (theoretical & experimental) to gain new knowledge related to marine technologies;
Conceptual studies to confirm the feasibility and practical efficiency of novel technologies and address the following tasks:
Identification of novel principles, phenomena, ideas & technologies for developing advanced R&T solutions and transfer of the same to shipbuilding industry;
Bridging the gap between the break-through & leading-edge insights of fundamental research and shipbuilding practices;
Securing the leadership of the Krylov State Research Centre as a premier industry-oriented research establishment in the field of naval & merchant shipbuilding, elaboration of long-term strategic plans and R&D programs.